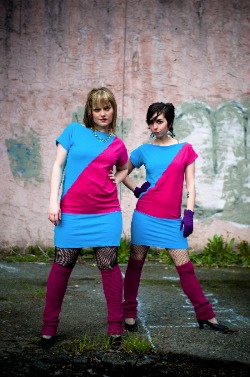 There are few things in imaginary life we like more than a band with catchy whip-smart lyrics, betchin beats, and great coordinating outfits.
Obviously, we're pretty stoked to have the honor of hosting a track off the new Team Gina record which, for the next 24-hours or so is a TIG-exclusive sneak preview track from the album!
Listen to "Emergency" from their new album, Products of the Eighties.
Tonight is their album release show at the War Room (with Alphabetix). Entrance to the very fashionable, rad show is $5 before 10pm and $8 after.
(Amazing press photo by Kyle Johnson)