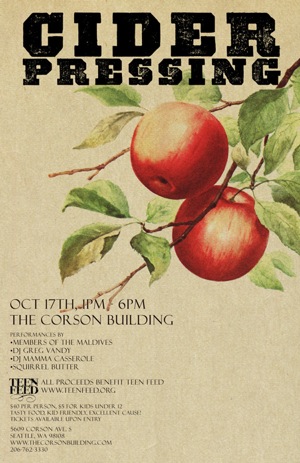 Come welcome fall with us this Sunday, October 17th at the Corson Building!
Music, cider pressing, family dinner, and more — it's all going on at the third annual Cider Press Event, a benefit for the Teen Feed organization (you may recognize Teen Feed as this past year's primary benificiary of the Noise for the Needy shows). There will be music from The Maldives, performing a stripped-down acoustic set, along with DJ sets from KEXP's Greg Vandy, and much, much more from 1-6p.
This event is all ages, and tickets will be sold at the door — adults are $40, and kids under age 12 are $5. The price includes the music, the cider pressing, and a casual fall feast. More information can be found at the Teen Feed and Corson Building websites.
We'll see you there!