The Horrors hail from Southend-on-Sea, a town in England located about forty miles east of London. The band formed in 2005 by members who shared a mutual affection for gothic post-punk groups such as Bauhaus and The Birthday Party. They released two 7" singles in 2006, "Sheena is a Parasite" and "Death at the Chapel," before issuing their first full-length album, Strange House, in 2007. Their debut LP caught the attention of the music press and allowed them to secure a recording contract with XL Recordings, who became their label for the subsequent album, 2009's Primary Colours, which was awarded the first place slot in NME's list of the fifty best albums of that year.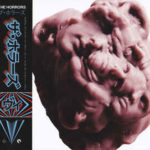 After the acclaimed Primary Colours, The Horrors released two more albums on XL Recordings, Skying (2011) and Luminous (2014). The following year, the group announced that they were working with the British producer, Paul Epworth, on a new record. In September 2017, after nearly two years, they finally issued their anticipated fifth LP, entitled V, on Epworth's record label, Wolf Tone. After it's release in the autumn, The Horrors toured Europe for several months. Earlier in June, their North American leg began in Washington D.C. and they will be performing in Seattle on Wednesday, 27th June at Neumos in Capitol Hill.
In the past few years, they have been asked to join both Depeche Mode and New Order as the opening act in their respective tours. The Horrors have also been added to two All Tomorrow's Parties festival line-ups that were curated by Portishead (2007 and 2011). For the uninitiated and for fans of post-punk, dark synth and ethereal shoegaze, The Horrors are a true modern era highlight. Mark this concert next week on your calendar and make your way over to Neumos (tickets / more info). Portishead, Depeche Mode and New Order would all wholeheartedly agree that you should purchase a ticket to this show without pause. That should be all the convincing that you will need. This is your chance to see a great band live, especially at such an intimate venue.
Top photo courtesy of The Horrors' facebook page.
Save
Save