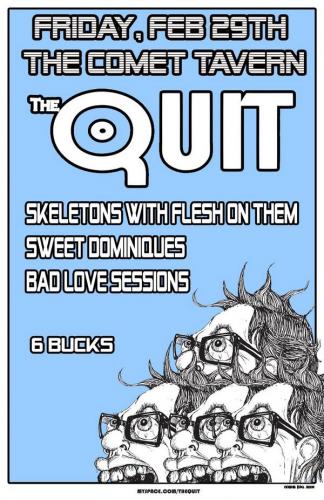 Happy Leap Year!
While Liz has about a zillion show suggestions on her plate for tonight, I suggest checking out an evening of up-and-coming local pop bands playing tonight, February 29th at the Comet, including a brand cute new band crush of mine, The Quit.
The band plays my kinda pop — Brit flavored, with jangly guitars, smart hooks, and tasty boy vocals. Especially catchy: the track "Manchester," available at the top of their MySpace song queue. It only has 45 listens so far, so you'll truly be among the first if you skip on over and check it out now.
The band plays tonight with Skeletons With Flesh on Them (another local band I've been listening to of late… will be posting more about them shortly) and Sweet Dominques and Bad Love Session. Cute poster. Only six bucks. Gotta love the Comet.