The headline says it all.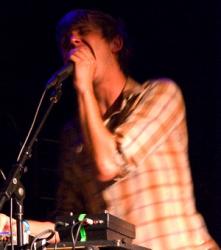 Seattle band These Arms Are Snakes have signed to Suicide Squeeze Records. The band starts recording their next record this week at Red Room Recordings, with an anticipated release date of October 7, 2008.
From Suicide Squeeze:
Suicide Squeeze is proud to announce the signing of Seattle-based, quartet, THESE ARMS ARE SNAKES!

THESE ARMS ARE SNAKES conduct turbulent blends of angst-ridden destruction and jangular jolts of post-punk reminiscent to the early sounds of Swing Kids, The Refused, or Nation of Ulysses. To date the band has toured w/ the likes of Minus The Bear, Blood Brothers, Big Business, Cursive, Mastodon, Against Me!, Isis, Pelican, Hot Water Music, and other likeminded heavy hitters in today's thinking man's punk and metal circuit.

The band will begin recording their new album on May 9 at Red Room Recordings in Seattle, WA, recording with Producer/TAAS drummer Chris Common (Mouth Of The Architect, These Arms Are Snakes, Minus the Bear), for a (yet to be titled) release on October 7th courtesy of Suicide Squeeze.

THESE ARMS ARE SNAKES have previously released a handful of EP's and two full-lengths for labels such as Hydra Head and Jade Tree (most notably 2006's Easter LP), and aside from their Good Friday 7" in 2006, the new album will be the first long-player for the Suicide Squeeze imprint.