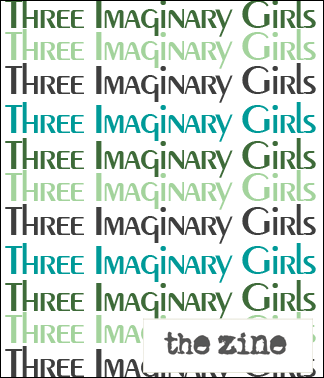 Did you know that 2012 marks the 10th anniversary of Three Imaginary Girls?
We can't believe it either!
To mark the big anniversary, we're going to celebrate it with a bunch of imaginary events throughout the year… 10 of them to be exact!  We're still firming some of them, so we can't do a full reveal, but let's just say that some rockstars should start working on their karaoke moves and you should make room in your wallet for the imaginary punch card (keep checking back for more anniversary party annoucements).
One of the 10th imagi-versary doo dahs we are working on right now is the first ever Imaginary Zine!  An old-fashioned photocopy cut and paste print zine with all of our favorite bits from the last 10 years.
The hard part is choosing said favorite bits, and that's where we could use some of your help.  Has there ever been an imaginary article that you recall as being your favorite, or you still giggle about, or was your first introduction to TIG?
All of us around the imaginary office have been combing the archives to find *our* favorites, and boy oh boy is it tough. Personally, I haven't even made it passed the first five articles I've looked at (all written in 2002) and I'm stuck! Should my contribution to the zine recount the time I got to interview one of my favorite bands ever in a small English town? Or the first time I ever saw Tullycraft (back when they were just a band whose record I loved and loved) or reported on a Bright Eyes show?  Right now, I can't stop laughing about this line from embracey from our review of The Soundtrack Of Our Lives:
"I haven't felt this Ikea-rific since Lena Olin became a regular on Alias!" he drolly emoted, thoughts of Ingmar Bergman obviously racing through his head. "If I weren't vegetarian, I'd be tearin' up some Swedish meatballs, ok?"
And then there are all the classic articles we wrote under the Three Imaginary Girls moniker.  Those are ones in which more than one of us reviewed a show and then reported in conversation form and are actually my favorites because they really capture the imaginary essence, which makes it even harder to choose!
So basically, we really need your help!
Feel free to cut and paste the URL of any article you've liked over the years in the comment section or email us at tig aaatttt threeimaginarygirls.com.
For every favorite article you submit, we'll put your name in the hat to win a TIG t-shirt!