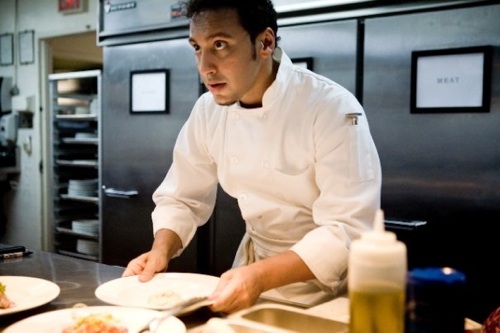 With the weather getting chilly, Hollywood marketers will try and convince you that you actually want to see a film about a fellow forced to chop off his own arm. And maybe you do, I've heard it's supposed to be quite good. But if you're brave enough to say you're just not in the mood for that sort of thing, there are other options. Many of them are quite entertaining, even if they're not likely to be nominated by the academy.
Coming to Landmark's Harvard Exit on Friday is Today's Special, a crowd pleasing foodie film starring (and co-written by) The Daily Show's Aasif Mandvi. It's not an especially complex tale: a "by the numbers" chef is forced out of his comfort zone when he's forced to take over his father's simple Indian restaurant. Given some magical influences, he rediscovers his roots and of course becomes a smash success (I don't think I'm really giving anything away there). It's colorful, light fun with some truly amazing looking food at the end. I caught this his back in January in Palm Springs. where I went in with cynical leanings but left satisfied.
It's easy to find minor things to quibble with here and there – but honestly, these were all washed away for me as I indulged in the pleasures afforded by the positive life affirming story on display. One warning – I do remember thinking "maybe I should leave" when Aasif's boss makes a first scene appearance in the kitchen saying something groan worthy like "listen up ladies!" Just fight that instinct, and give it a chance. It was worth it. And I'm not just saying that because Aasif succumbed to me stalking him post film for a photo-op.
For those seeking something something "foreign" there's the New Italian Film Festival closing night film at SIFF Cinema – Happy Family. To quote Imaginary Amie "The closing night film on Saturday, November 20, is Happy Family: a comedy about screenwriter Ezio (Fabio De Luigi), who imagines his characters are talking to him as he writes their story. Comparisons to Wes Anderson aren't far off—if say, Wes Anderson was Italian and just a little bit more clever…" Can't wait to see this film, even if I'm nursing minor disappointment that it's not based on the similarly named Ramones song.  Feel obligated to suggest that purchase of a closing night ticket includes the party, if you're attending. Last year there was a fine showing by the festival's limoncello sponsor. 'nuff said.
Of course it wouldn't be right of me to totally diss the big blockbusters of the weekend – at least not given that the new Hermione Granger Harry Potter film is opening up.  You'll probably want to see it at the newly re-opened Cinerama (under new management).  Even if I didn't already love the idea of catching this on their huge screen – their website had me at "Cupcake Royale" concession…