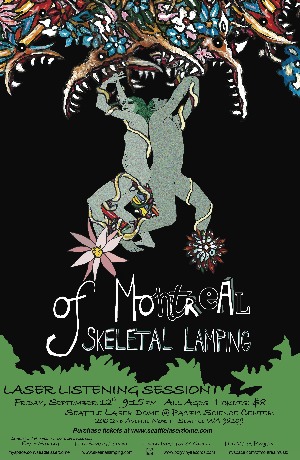 Pink Floyd and Sublime step aside! Of Montreal will be taking over the Laser Dome at the Pacific Science Center on Friday September 12th for a night of seizures, pot brownies and some durn good pop music. Here's the 411….
Of Montreal's Skeletal Lamping Laser Listening Session

Friday, September 12th

9:15pm sharp

ALL AGES * Tickets $8

Seattle Laser Dome @ Pacific Science Center

200 2nd Avenue North

Seattle, WA 98109

(206) 443-2850

www.seattlelaserdome.com
http://www.myspace.com/seattlelaserdome

Be the first hear of Montreal's brand new masterpiece in its entirety before anyone else! Set to LASERS!

Band will not be in attendance.
We're giving away tickets so email us kids! I have a feeling this event will sell out so shake off those Bumbershoot-ending blues and win some tix! Email us at tig@threeimaginarygirls.com with the subject line "Of Montreal Full Frontal Laser" to enter.
Some fabulous places/organizations are sponsoring this event, so let's take this time to thank them… THANK YOU 230 Publicity, Polyvinyl Records, Easy Street records, TheStranger.com, Three Imaginary Girls (yay us!) and the Vera Project.