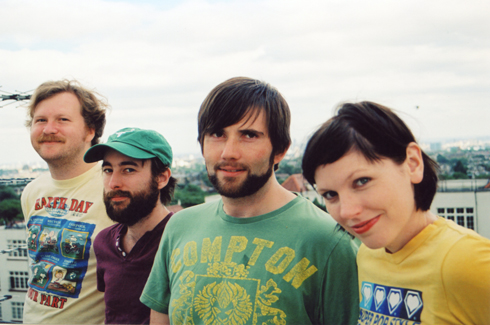 We are over-the-moon excited about this Friday night, when the Vera Project will be filled with indie-pop giddiness and sweet melodic musings of one of our favorite bands, Allo Darlin', and stellar opening band The Wave Pictures.
The night is also a celebration of Three Imaginary Girls 10th Anniversary! This is the first show in our series of anniversary celebrations and we would love to mark this special event with you, Allo Darlin' and The Wave Pictures.
It's been over two years since Seattle has had our Allo Darlin' fix, when they sold out the Rendezvous on their first visit to the Pacific Northwest back in October, 2010. Since then, they've recorded and released (just last month) their amazing sophomore effort, Europe. It's beautiful and smart, with lush engulfing waves of orchestrated pop and moments of subtle unassuming diary entries. The album is clever, while steering clear of pretentiousness or preciousness… and white vinyl versions of it will be for sale at the merch booth!
And don't just take our word for it. KEXP, who knows a lot more about what's what, is in love with them too. If you've listened to 90.3fm/kexp.org recently, you've likely heard the first single from the album Europe, "Capriconia." It's catchy, without losing its ability to tug at your heartstrings (that pull you home!!!) and bring a tear to your eye (don't worry, we wont tell anyone you got so touched).
The show is all-ages and doors are at 7.30pm. Don't dilly-dally, because the opening band is The Wave Pictures, visiting us all the way from London (as well). They have a freshly-released brand new album, chock full of pop songs that some have described as gawky, sublime pop… but I like to think of them as a sweet blend of Hefner, Clinic, and Jonathan Richman, with the wits of John Peel. I predict that seeing their set will add points to your indie-coolness klout score.
There's going to be so much imaginary love at the Vera Project this Friday, this show is not to be missed. I don't want you to truly regret missing this double-bill of UK radness and imaginary anniversary fun, so here's a couple more reasons you should go: