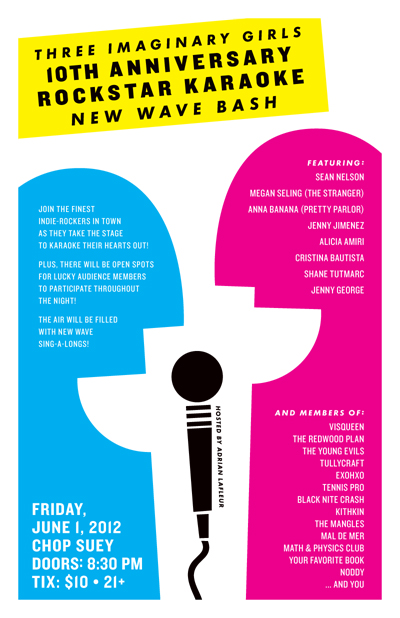 As you may have heard, 2012 marks Three Imaginary Girls' 10th anniversary of being Seattle's sparkly indie-pop press and we can't think of a more imaginary way to celebrate than with a big bash with some of our favorite rockstars and YOU!
On Friday, June 1st at Chop Suey, we're going to host the biggest TIG birthday party of all imaginary time with some of Seattle's most stellar rockstars taking the karaoke mic to sing in the key of new wave, including:
Sean Nelson
Lesli Wood
Megan Seling
Jenny Jimenez
Shane Tutmarc
Alicia Amiri
Cristina Bautista
Anna Banana Lange
Jenny George
and members of:
Visqueen
The Young Evils
Exohxo
Tullycraft
Math & Physics Club
Tennis Pro
Mal de Mer
Black Nite Crash
Kithkin
The Mangles
Your Favorite Book
Noddy
We Wrote the Book on Connectors
It can't get any more astonishing, right? Well, the rockstars aren't the only ones taking the mic, we want YOU to sing too! Throughout the night, audience members can volunteer to take the Chop Suey stage by storm to karaoke their favorite new wave hit. Folks will be chosen first come, first served, so get there and turn in your song early (doors are at 8:30pm)!
To add to the birthday merriment, the evening is going to be hosted by imaginary Dana and Adrian LeFluer (of Iron Composer fame), who you might remember stealing the show as emcee at our 69 Love Songs cover night a few years back.
Get your ticket to the night of new wave love and big imaginary fun now! And check out the Facebook page for the event!
As an added bonus for those at the show, you can be the first to pick up a copy of the Imaginary Zine! A printed old school zine recounting our first 10 years in stories and recounted memories from our imaginary friends. It will have a special screenprinted cover (thanks Seattle Show Posters / 112 Printworks!) and a cd chock full of rare, live, or exclusive songs by some of our favorite local artists, including The Long Winters, BOAT, Exohxo, The Femurs, Tullycraft and MORE! It's limited to a hand-numbered print run of only 333, so you should make plans to pick up your copy at the show.
But what we really want to know is… what new wave songs do you want to hear karaoke'd at the party?
P.S. – HUGE thanks to Roshan Gurusinghe for the beauuuuutiful poster for the show… sweet dreams (are made of this)!