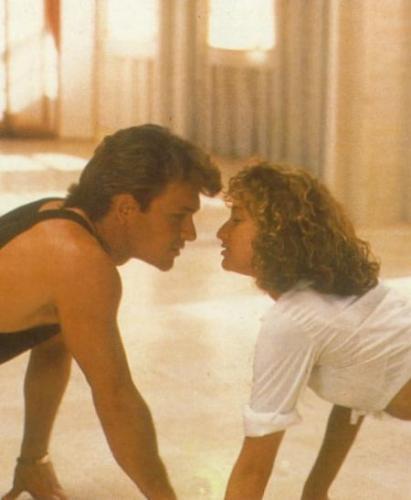 I didn't realize until just moments ago that there are people in this world who are still certifiably insane over the 1987 Jennifer Grey / Patrick Swayze flick Dirty Dancing. Not only is the updated "special edition" getting a pre-DVD-release theatrical run around the country (it'll play May 1 and 2 at Pacific Place here in Seattle), there's also a reality show based on the film, and a stage musical that's setting worldwide box-office records… even before it opens!
From a press release I got today:
It may be two decades later, but you can still have the time of your life! Lionsgate (NYSE: LGF), the leading independent filmed entertainment studio, and National CineMedia's Fathom are bringing Dirty Dancing back to the big screen — with brand new 35mm prints with enhanced picture and sound — in a special event on May 1 & 2, 2007 to celebrate the film's 20th anniversary. Theatergoers will be treated to a never-before-seen, 20-minute exclusive look inside Dirty Dancing featuring a collection of interviews from key people who brought the film to life, a look back on the impact of this modern classic and a glimpse into the Dirty Dancing London stage production.

The theatrical event is part of a 20th anniversary celebration that features the May 1 & 2 feature film release, a 20th anniversary home entertainment re-release featuring a DVD special edition and Blu-Ray disc, a remastered companion CD from Sony/BMG, a full licensing and merchandising program, and the stage play's continued march across several continents, setting box office records in the process. Lionsgate is an investor in the stage play and also launched the eight-episode "Dirty Dancing: The Reality Show" television show on the WE Network.

The Dirty Dancing stage musical continues to set box office records around the world. After enjoying enthusiastic acclaim in Australia and selling out theatres in Germany for nearly a year in advance, it recently premiered in London, where it set the UK record for pre-opening ticket sales, and currently has a growing advance of more than $30 million. On the heels of that success, the Toronto production of "Dirty Dancing: The Classic Story on Stage" is scheduled for its North American premiere at the Royal Alexandra Theatre in Toronto, where it just achieved a record-breaking $1.65 million in first day ticket sales for its November 2007 opening there. The production is then scheduled to open in the Netherlands in March 2008, with a tour of the United States also kicking off in 2008.

Dirty Dancing remains one of the most popular films in Lionsgate's 10,000-title library and is one of the most enduring modern classics in feature film and home entertainment history.
Um, modern classic?