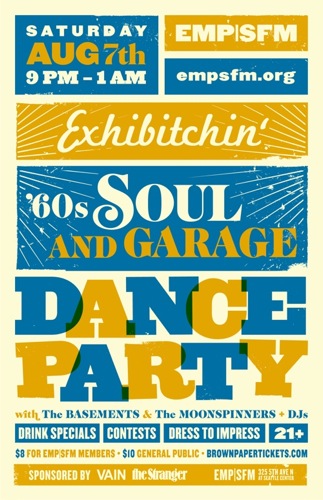 Still hankering for something to do tonight? Well, look no further. It's 60's soul and garage dance party night over at the EMP, and it's going to be bitchin'. Exhibitchin', to be specific. It's full of bands, DJs, and all kinds of ka-pow — for a teensy $10 cover!
For starters, the EMP Skychurch is gorgeous. Gor. Geous. Just the place to hold a big dance party like this — huge stage, amazing lighting, and tons of space to get your groove on. Tonight, that huge stage will be hosting not only some DJ sets, but performances from The Basements (last time we caught them out, we noticed Kurt Bloch behind the drums, and a Sangster or two rounding out the lineup) and The Moonspinners too. Take that, makeovers from VAIN, and photobooth lovin' from the one and only Lance Mercer — and you've got yourself a bitchin' one-stop night on the town.
Did we mention that the EMP proper will be open during the event? And that they've got a stunning collection of clothes from the Supremes wardrobe on display? We don't know about anyone else, but this sounds like the perfect no-brainer date night to us. So grab your gals (and your gents), dress to impress, and head on down for 9pm!
We'll see you out on the dance floor!