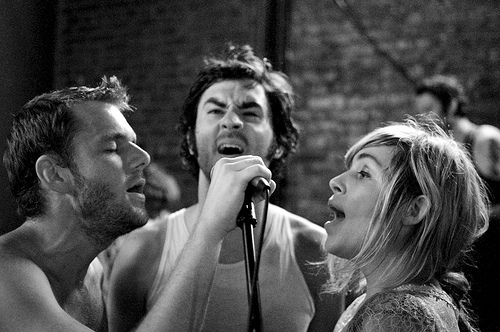 If you're kicking yourself about missing The Head and the Heart last month at Block Party, The Comet, and/or Sonic Boom, you're in luck: our new favorite six-piece will be bringing the bliss to Columbia City Theater tonight, when they open up for Kay Kay and His Weathered Underground.
The Head and the Heart — recently voted "Best Band that Didn't Exist Twelve Months Ago" in the Best of Seattle poll — has taken our town by storm this summer. With a decidedly four-on-the-floor (and then some) sound and a stage presence that just won't quit, this group takes that earnest, backroad, achey-core vibe to a whole 'nother lev. And they're busy bees, too — now that their self-titled release is out, they've got nine shows in September alone with the likes of Fences, Mt. St. Helens Vietnam Band, and more. Whether you're at KEXP's Mural series, heading to PDX for Music Fest Northwest, or just generally kicking it on the left coast, you'll be able to dig on one of their shows.
But getting back to tonight — come for the sweet stories, and stay on for the headliner. Tickets are only $12 and the whole boat gets going at 9pm.
We'll see you at the show!