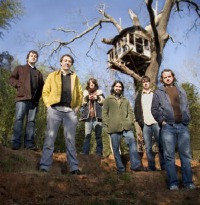 There will be some Elephant 6 goodness in the house tonight! Elf Power are headlining tonight's show at the Crocodile and with them they will likely bring their moog, accordion, clarinet and, of course, guitar indie-rock with a slight psychedelic overtone.
Most folks will be at the show to bask in the indie cred of their seven lush albums released over their 12-year career. I'll be there for that… but also to get one step closer to understanding their Orange Twin Conservation Community. Ever since I heard about the OTCC, I've been both captivated and, I'll admit, slightly baffled by it, its mission and how it thrives in this music industry world full of selfishness (have you folks watched MTV recently) and the over-commercialism of music (again with the MTV).
The OTCC is a cooperative record label+ that the Elf Power folks run in magical Athens, GA that encompasses a record label and website… and more; Everyone involved with the label (the bands, etc) is part of a physical community of gentle people working towards the common goal of peace, love, happiness, organic goods and the betterment of the earth… and living commune style. It's beautiful!
All that and they write some pretty alluring songs.
Also on the bill we've got Lillydale, who you might recognize from their days as KEXP favorites and Patience Please, who we hope will debuting some new songs from there upcoming full-length (to be released on another Athens, GA label, Happy Happy Birthday to Me).