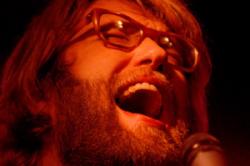 Three Imaginary Girls have long been Long Winters super-fans. At last count, we've written about no fewer than 15 live show reviews of the band. Crazy, huh?
But no matter how many times you catch this band, they're captivating live, and there's always something new to discover. John Roderick is a master showman, and for tonight's performance, I'm particularly excited to see how his charmismatic banter translates to a huge venue like the Showbox.
Also grounds for excitement: The Broken West, an LA band who just reviewed their debut full-length I Can't Go On, I'll Go On on Merge Records. I caught part of their set at SXSW last month and was impressed with their jangly power-pop set.