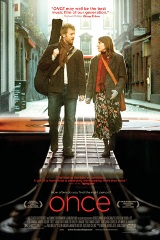 The only SIFF screening of this irresistible Irish film takes place today at 6:30p at SIFF Cinema. And tickets are going fast.
But don't think Once will be gracing Seattle screens only once. It gets a proper theatrical release beginning June 1 at the Harvard Exit.
Either way, do see it. On the big screen.
Following the film's Sundance accolades, you may have already come across some critical raves, and you can believe 'em: Once is as enchanting, majestic, and beautifully-realized as they claim.
The story follows one eventful week in the lives of a Dublin busker (The Frames' Glen Hansard) and a Czech immigrant (Markéta Irglová) as they discover their common love of music and set out to record songs that may tell their love story. So it's a pop musical, but definitely not of the Disney or Porter or Sondheim variety: the songs grow from, stitch together, and propel the story.
And, wow, what lovely songs they are. See for yourself — here's the trailer: