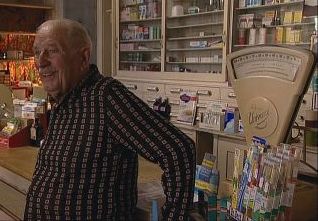 The title may seem better suited to a big-bux Michael Bay summer actioner, but Out of Time is definitely not that. A lovely, moving, melancholy little Austrian documentary about four old-world businesses struggling to survive gentrification, it's my favorite non-fiction flick of SIFF '07.
The Vienna businesses in question are a butcher shop, a pharmacy, a leather goods store, and a very cool button shop. The proprietors, many of whom began as apprentices and have devoted decades of their lives to their shops, are charming, wise, funny, and simply amazing: beholding them going about their daily lives and recalling the good (and bad) old days is insightful and revealing in ways you just don't expect. They are the film's heart and soul, and you'll feel honored to've met them.
Sadly, only one of the shops is still in business by the end of the film. Which brings us back to the double-meaning title: is there any time left for mom-n-pop businesses that exist outside of our disposable, capitalism-amok, big-box, department store era?
Out of Time has its North American premiere tonight, 9:30p, Pacific Place.