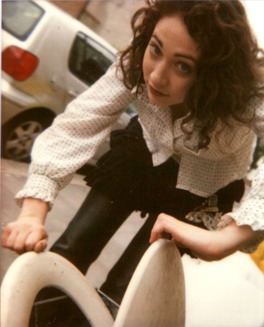 My TIG bio says that I am "madly in love with Regina Spektor", which I think is some exaggeration. Everyone who knows me, however, would unquestionably disagree.
'Tis true that she is my favorite artist in a post-Sleater-Kinney world, and for good reason. Possessing a voice that is often delicate and jarring, even in the same verse, she doesn't just write songs: she creates short stories (often macabre) and sets them to music. They often don't follow verse/chorus/verse protocol but explore love, loss, addiction, religion, pain, and countless other topics.
While her albums are terrific — and each one improves upon its predecessor culminating (so far: she's only 27) with last year's amazing Begin to Hope — it is her live shows that are especially memorable. Combing a very deep catalogue, she does not stick to the contents of her latest albums. The first two times I've seen her perform, she sang songs "Baby Jesus" and "Bobbing for Apples," neither of which have been given a proper release (although you can find mp3s of both on the fan site reginaspektor.net). One's chorus is about believers spitting on the graves of non-believers and the other song states, "the people next door are fucking to one of my songs." And this came from someone who looks like a delicate, porcelain doll.
Anyway, this show sold out a while ago, so you may need to scour Craigslist or find a scalper. I don't normally wish to perpetuate the ticket scalping industry, but in this case, it's worth it.