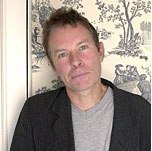 Musician, critic, and all-around Renaissance man Sean Nelson chats with director Julien Temple about The Clash's Joe Strummer at this Face the Music event tonight at SIFF Cinema.
From the press release:
Part of SIFF's special Face the Music screening and discussion events is the intimate portrait of legendary Clash frontman Joe Stummer.

Director Julien Temple captures the man behind the myth with performance footage and illuminating recollections from fans, family, and musical partners in Joe Strummer: The Future is Unwritten. On June 5 at 7pm, Temple will be on hand to discuss his complex personal relationship with Joe Strummer, from their early years in the London punk scene, their youthful falling-out, and the consequent rekindling of their friendship later in life just prior to Strummer's untimely death. Moderating the conversation is Seattle musician and critic Sean Nelson (Harvey Danger).

Julien Temple, as filmmaker, has often explored the way music and film connect, directing musical films such as The Great Rock 'n' Roll Swindle, the ambitious Absolute Beginners and the new documentary Glastonbury, to name a few. He is also a noted photographer and chronicler of the Sex Pistols and London punk scene and a highly regarded music video director, creating videos for such artists as David Bowie, The Kinks, and the Rolling Stones.
The Nelson/Temple discussion takes place tonight at 7p at SIFF Cinema. A screening of Joe Strummer: The Future is Unwritten follows at 9:15p.