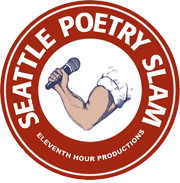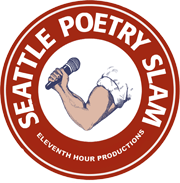 Not another open mike! Seattle is rife with 'em, but this is completely different.
Slam poetry was started by a construction worker in Chicago in the late 80's to lure people to the bar during the week. The working premise was this: poetry is an amazing genre and shouldn't be left to the emo crowd or Dear Diary entries. It was decided that poets would perform their works and be judged by audience members who have never been to a poetry slam and don't know the artists. Poetry for the people, by the people!
As an audience member, it is your job to sway the judges. Don't like a poem? Don't say a word. Love what you hear? Scream it! Most poetry performed on the slam stage uses humor, satire or dead-pan seriousness to cover political issues, growing up, and weird things that happened on the way to the bar. You don't have to read poetry to go – seeing slam poetry is tantamount to going to a comedy club or improv theatre, with similar results: sometimes the perfomers are hot hot hot, and sometimes you get someone who's definitely not. Luckily, there are three rounds so the creme de la creme are all you hear at the end.
Tonight's feature, Jessica Lohaefer, will perform between the open mike and the slam competition. She's been a member of the 2006 Bellingham Slam Team and has featured in venues across Washington State. It's her second feature on the Seattle slam scene, but the first one she'll actually be able to drink at after turning 21 last week. If you're lucky, you'll hear her poem that goes something along the lines of, "You make me want to be a kindergarten teacher, I'll pick you up on my lap and teach you how to read the letter 'O'."
The Seattle Poetry Slam is for the 21+ crowd. It takes place at Tost in Fremont every Wednesday night starting at 8:30 p.m., with sign-ups start at 8 for the open mike. All for a measly $5!