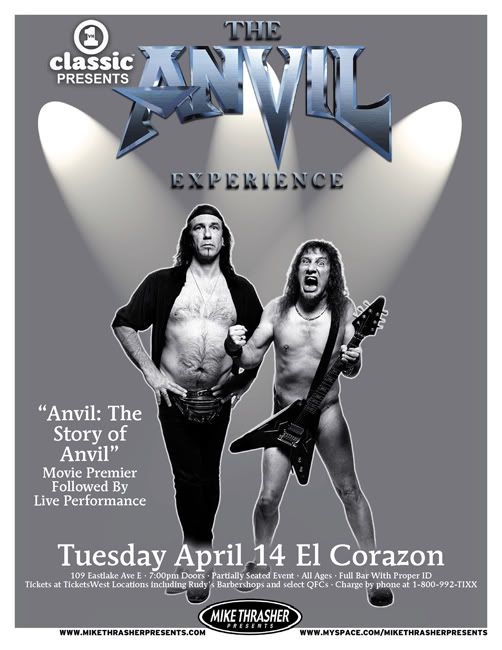 With the Seattle International Film Festival coming up, I started thinking about one of the movies that I regret missing the most at last year's festival: Anvil: The Story of Anvil, which is about a hugely influential Canadian metal band that is still relatively obscure. The film has been called "the real-life Spinal Tap", so I've been intrigued to see it.
Tonight at El Corazon is a screening of Anvil, followed by a performance by the actual band featured in the documentary. The film runs for about 90 minutes (El Corazon's website says this is "a partially seated event") and then Anvil rocks our faces off.
The press release for the film describes it as:
At 14, Toronto school friends Steve "Lips" Kudlow and Robb Reiner made a pact to rock together forever.  They meant it.

Their band, Anvil, went on to become the "demigods of Canadian metal," releasing one of the heaviest albums in metal history, 1982's Metal on Metal. The album influenced a musical generation, including Metallica, Slayer, and Anthrax, that went on to sell millions of records. But Anvil's career took a different path – straight to obscurity.

Director Sacha Gervasi has concocted a wonderful and often hilarious account of Anvil's last-ditch quest for elusive fame and fortune. His ingenious filmmaking may first lead you to think this a mockumentary, but it isn't. Gervasi joined the legendary heavy-metal band as a roadie for a tour of Canadian hockey arenas, so he has intimate insight into the members' eccentricities. It's fascinating to see the reality of their day-to-day lives as they struggle to make ends meet, take a misguided European tour, and engage in antics on the road – which is not always lined with fans. Gervasi even finds a softer center to this raucous film, introducing us to band members' ever-supportive, but long-suffering, families.
And here's the trailer:
If you can't make it to El Corazon tonight, Anvil: The Story of Anvil starts playing on Friday at the Varsity Theater, in the U-District.
What else ya gonna do tonight?
I'm A Gun/Ninja Academy/Tree Tarantula, Funhouse
Gavin Rossdale/Suzie McNeil, Showbox
The Anvil Experience, El Corazon*
Black Elk/Made Out Of Babies/Madraso/The Family Curse, Comet
The Presets/The Golden Filter/Copy/Colby B, Neumo's
Late Of The Pier/The Whip, Chop Suey
Josh & Anand/Reed KD, High Dive
Jamie Stewart, Vera*
Dr. Dog/The Cave Singers/Golden Boots, Crocodile !