This just in from the fine folks at Light in the Attic Records:
WE NEED COMPETITIVE EATERS!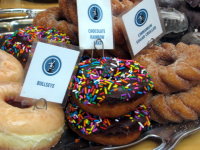 Saturday, June 23rd at 6p, Light in the Attic will host an in-store with the Saturday Knights and an accompanying Top Pot Doughnut Eating Contest! The event will take place at the Silver Platters on Lower Queen Anne and is free to all…. and will have free delish doughnuts for anyone up to the Top Pot challenge.
The learned representative from Light in the Attic who I questioned was unsure whether the contest would involve all the same doughnuts, or whether competitors would have a choice from all the flavors… which I maintain makes a difference! It would be way easier to power eat ones way through a pile of plain or glazed old fashioned than, say, the Boston Cremes or the jelly-filled treats.
As a special bonus, Top Pot doughnuts are trans-fat free!
Know anyone up for the challenge? I think I could only get through two, maybe three tops…