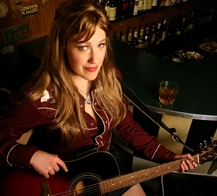 So there's this traveling country musician from Kentucky playing two shows at CHAC this weekend, and I feel compelled to tell you about her.
Charlane Tucker is her name — I swear I'm not making that up — and she's on a mission to increase her ever-growing catalog of original tunes by suffering through 100 heartbreaks, inspired by a series of unsuccessful flings and romances. That's right, one song per heartbreak, and when I saw her last weekend she was right around the midway point.
Her voice is road-weary but hopeful. Between songs she tells stories about sad, sad life events like the time her daddy's dog died while trying to make love to a possum. She's a self-professed expert on hook-ups, break-ups and hangovers. She has never turned down a Jack and Coke.
OK, so the musician is actually Seattle actress Joanna Horowitz, and her one-woman musical is called 100 Heartbreaks. It's directed by scenic-designer extraordinaire Jennifer Zeyl (My Name Is Rachel Corrie) and music-directed by John Osebold (of "Awesome"). And it's a brilliant, hilarious, short-n-sweet, Southern-fried hoot, mixing old-school country medleys with new compositions that hark to a truly golden era. It's like seeing Mary Hartman, Mary Hartman's Loretta Haggers doing a bit on Hee-Haw.
I wasn't pulling your leg when I said there were only two more performances: 2/29 and 3/1. So get yourself to the CHAC and cash in on your chance to hear what Charlane's been up to. You'll be anything but heartbroken.