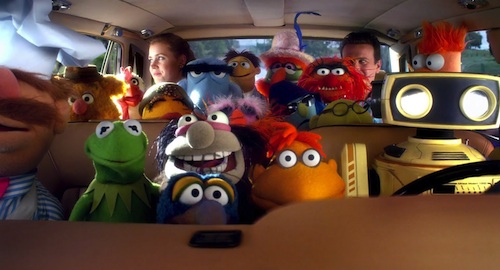 As usual, even though I've seen quite a few films this year, picking out 5-10 that really stood out was an exercise in head-desk banging insanity. BUT – I think I finally figured it out, by breaking the films into categories of films that touched me in specific ways, that made me laugh and cry, and that are examples of why I love film so damn much — instead of trying to just list the best films made this year.
In no particular order, my favorite films that I saw in 2011 (please note that some may technically be 2010!) are:
Best Movie that Lifted My Spirits and made me long for childhood: The Muppets
I was one of those kids that perched myself in front of the TV a full 10 minutes before The Muppet Show came on, so that I wouldn't miss any second of Kermit, Miss Piggy, Rolph, Fozzie, and Scooter wrangling special guests and being ridiculously entertaining. So news of a Muppet reboot of course made me nervous, but I gotta hand it to Jason Segal and James Bobin – they totally NAILED it. This film paid tribute to all the awesome characteres we loved as kids, while also renewing them for a much younger audience. Plus, they got Chris Cooper to RAP. I mean, seriously, you guys. I left the theater smiling and haven't really stopped since. Bonus: 80s robot is like my favorite thing, ever.
Best Drama(s): Another Year, Higher Ground, and Melancholia
Another Year nailed the craziness of family, friends, relationships, and love, Higher Ground's thoughtful storytelling left me anxiously awaiting Vera Farmiga's next movie, and Melancholia was exquisitely painful and beautiful (you know, like most Von Trier films).
Best Samurai Epic: 13 Assassins
Takashi Miike's 2-hour + tale of samurai honor and revenge combines two of my favorite things: lots of blood & gore, and a good guys vs. bad guys battle of insane proportions. I mean, come on – there are FLAMING BULLS in this thing. There's no way you can't love it! (oh…unless you're in a coma)
Best Romantic Comedy: Crazy, Stupid. Love.
There is so much right with this movie that I'm willing to ignore the few mistakes that do slide by (particularly "the speech" at the end). Gosling and Carell have as much chemistry as Gosling and Stone, and I loved, loved, loved all the storylines and how they entertwined.
Best Weepy Comedy/Drama: Beginners
If Melanie Laurent and Ewan McGregor could star in every movie ever made, I'd watch all of 'em because MY GOD they are perfect together. I love the way this film cut two stories together (prepare for some sobbing during the flashbacks) effortlessly, and I can't wait to buy it on DVD and watch it over and over and over again. Bonus: cutest dog ever!
Best Fun-Actiony Goodness: Rise of the Planet of the Apes
I'm actually surprised I liked this one as much as I did, but they did a really boss job of incorporating the flavor of the original series with a modern take on how the apes ended up with super-charged brains. Excellent, all around.
Best Thriller/creepy little girl movie: Hanna
It's funny how people keep saying to me "It doesn't make any sense!" but it actually made perfect sense to me. In fact, the government turns people into human guinea pigs plot isn't that far away from Stephen King's Firestarter…if they took that idea as a base and kicked it up a few 1,000 notches. Saorise Ronan is like the Irish Dakota Fanning – a creepy, otherworldly woman-child, so this role is obviously perfect for her.
Best Hitchcock Tribute: Poupoupidou (Nobody Else But You)
This movie sounds like it would suck: a local cheese queen who bears an uncanny resemblance to Marilyn Monroe is murdered, and a writer investigates her story after falling in love with her – post-mortem. But this one still sticks to me – I can't stop thinking about how clever it was. Just a really solid little mystery.
Best Beautiful Animated Film: The Illusionist
Gorgeous, melancholy, and simply perfect. I'm a weeper at movies usually, but this one about a lonely, out-of-work illusionist traveling through Europe and looking for work opened the floodgates – relying on scenery, music, and very very very little dialog.
Best Fun Animated Film: A Cat in Paris
I saw this twice and laughed and laughed and laughed and laughed. Betting I could watch it a few 100 more times and still be entertained. A Joe Peschi-esque mob boss, a crafty (yet charming) thief, a single-cop mom, a sweet little girl, and the most kick-ass cat ever – plus an animated view of Paris via rooftops? Yes, please.
Honorable Mentions: All Good Things, Somewhere, Trigger, Late Autumn, The Off Hours, Treatment, We Are the Night, The Village of Shadows.