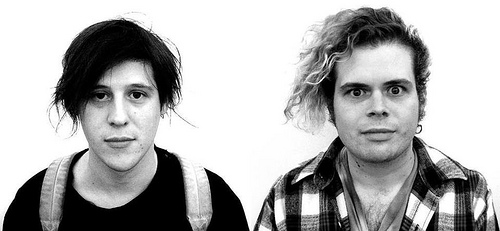 Wavves was formed in 2008 as the project of San Diego's Nathan Williams, after he quit his record store job. He recorded his first two releases — 2008's Wavves and 2009's Wavvves — in his bedroom, and both were somewhat lo-fi and fuzz-filled. (The distortion on the albums is so overriding, it's almost hard to make out most of the lyrics, but despite the quality there are some good melodies hidden in those songs.) The albums received enough blog hype to garner the band spots on that summer's festival circuit, a small success that wound up leading to an unfortunate incident in 2009 at the Primavera Sound Festival in Barcelona, Spain: Williams had taken a cocktail of Valium and ecstasy and had a meltdown on stage, fighting with his drummer and the crowd before ending the show and canceling the rest of the band's European tour. What some thought at the time a cautionary tale of a young musician getting too much hype too soon turned out to be a turning point for Williams and for his musical project. Instead of devolving and letting his issues consume him, he started taking his work and his music more seriously, and doubled down on his efforts.
Following the public meltdown and subsequent loss of his drummer, he re-formed the backing band with the late Jay Reatard's former band; drummer Billy Hayes and bassist Stephen Pope. Together they took their newly formed lineup out of the bedroom and into an actual hi-fi studio, and along with producer Dennis Herring recorded some of their best material to date, 2010's King of the Beach. With it came a departure from most of the lo-fi fuzz and snotty skate-punk of their previous efforts — now, Wavves had evolved their sound to include more accessible surf-pop gems alongside some dense psychedelic and occasional synth based songs.
Wavves continued to expand their musical palate on 2013's Afraid of Heights, an album that the band (now a duo consisting of Williams and Pope) paid to record out of their own pocket. The high production value remains, as Williams and company tap into some 90's-inspired nostalgia that would not have sounded out of place alongside early 90's Weezer and Nirvana. This time around they've even gone so far as to include some occasional orchestral sounds include a cello (almost unheard of on early Wavves albums) and an appearance from Jenny Lewis who contributes background vocals to the albums title track.
See Wavves in all their power-chord alt.surf-rock glory on Saturday, October 19th when they play the Neptune Theater along with King Tuff and Jacuzzi Boys. The show starts at 8:00 and is all-ages. Tickets are $19.50 and are available (along withe more info about the show) here.