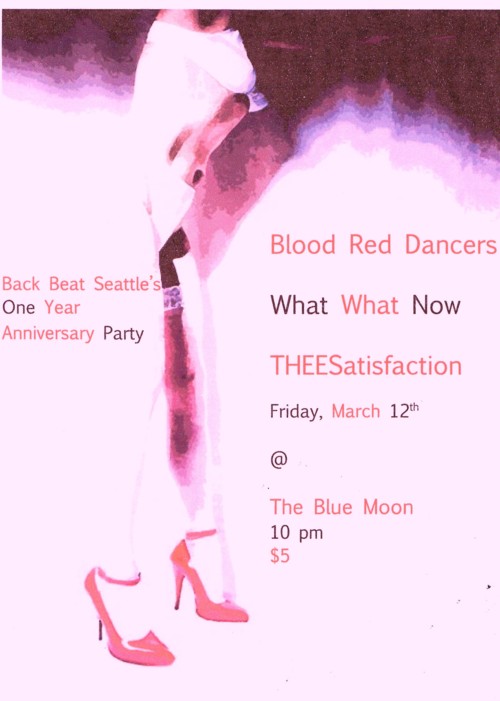 This weekend, some of Seattle's best music websites (and even better friends) are celebrating their birthdays and they've got your weekend booked with fantastic shows that showcase the talent and diversity of the Northwest. Back Beat Seattle is turning one on Friday and Ear Candy is celebrating it's birthday with what its founder, editor, chief, etc… Travis Hay calls "Ear Candy's Weekend of Awesome" and has shows Saturday and Sunday night at different clubs. Also quite thrilling: Dagmar and Amelia from Back Beat and Travis from Ear Candy have all written for TIG before starting their own flourishing websites.
Back Beat's show is Friday at the Blue Moon and it features Blood Red Dancers, THEESatisfaction and What What Now. It all goes down starting at 10pm and you'll need $5 and ID proving you're at or over 21 to get in the door.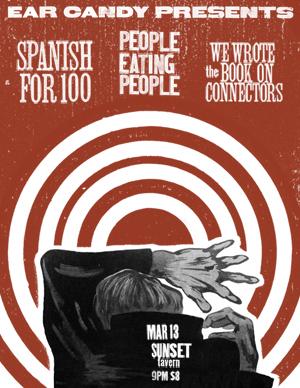 Saturday night has the first night of Ear Candy's "Weekend of Awesome" at the Sunset with Spanish for 100, People Eating People and We Wrote the Book on Connectors. It'll cost just $8 and start at 9 for drinking age adults.
Sunday (Sunday, Sunday) is Ear Candy's Birthday Bash is a dance party at Nectar with No-Fi Soul Rebellion, Katie Kate, Queerbait! and Lisa Dank. It'll just be $6 to get in the door (also 21+), which I think it's so inexpensive so that you'll have money left over to buy Travis shots for his birthday.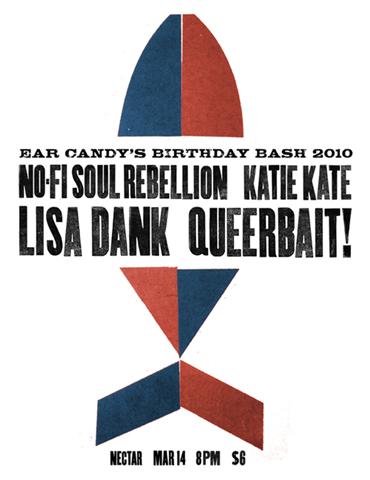 A sincere congratulations and thank you to both Back Beat and Ear Candy for these milestones, for the excellent shows this weekend, for doing such a fabulous job of documenting what happens in the Northwest and for being amazing friends to both Seattle music in general and me in particular.