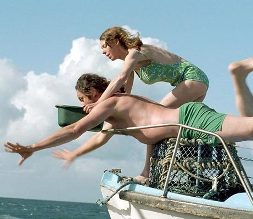 Assuming you've seen the summer's so-far best films (Ratatouille and Sicko), here are a few recommended cinematic offerings around Seattle that might get lost in the sequels-and- wizards-and-Transformers summer shuffle this weekend:
L'Iceberg. How to explain this delightfully deadpan Belgian film? It's like an Anne Tyler story directed by Aki Kaurismäki with a sassy flourish of Buster Keaton-ish physical comedy and a sly wink at Jacques Tati. The dictionary.com definition of "droll" should reference L'Iceberg. It's at the NW Film Forum through 7/19.
The Long Goodbye. This early Robert Altman film (made in 1973, post-MASH and pre-Nashville) is the great director's singular take on Raymond Chandler's detective Philip Marlowe… and its neo-noir nature has divided and confounded film purists for years. Can't wait. A new print screens at SIFF Cinema through Thursday.
Manufactured Landscapes. This documentary on the recent work of Edward Burtynsky (gorgeous photos of ugly industrial realities) is one of my favorite non-fic flicks of the year. It just started a week-long run at the Varsity, and is a must-see for the art- and enviro-minded among us.
and, ok…
Harry Potter and the Order of the Phoenix. Definitely not the best of the Potter films (I reckon Alfonso Cuarón's installment will always be my fave), but the visuals are mostly great, Harry and Ron are turning out nicely (sorry, I couldn't get those Equus photos outta my mind), Emma Watson is becoming a fine young actress, and Imelda Staunton is absolutely AMAZING as Dolores Umbridge.
Dana alread has a separate HP discussion going elsewere. (She's not a fan of the new film — big surprise.)
So what else are you seeing (or have you seen) this weekend?