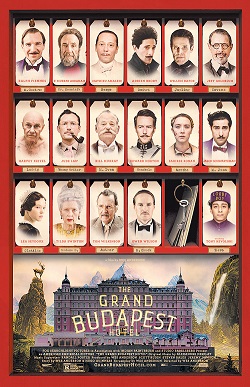 It's not like I even need to encourage all of you Wes Anderson-philes to go see his new flick, but just in case I do — how about some FREE passes to encourage your movie night pick next week?
In case you haven't been paying attention, The Grand Budapest Hotel is a film "set in alternate-history 1920s Europe in a country called the Republic of Zubrowka, where a famed hotel concierge by the name of Gustave H. is bequeathed a painting called Boy with Apple after his one night stand, Madame D, is killed. Madame D's son, Dmitri, vows revenge on Gustave by framing him for Madame D's murder. Zero Moustafa, the lobby boy, and his love interest, Agatha, help Gustave hide Boy with Apple from Dmitri and the authorities." So, typical Wes stuff, yeah? SOUNDS AWESOME.
The Grand Budapest Hotel opens in Seattle 3/14, but there's a preview screening next Wednesday (3/12) at SIFF Uptown, and we've got a download link just for Imaginaries! CLICK HERE to get your passes, and do it quick! I predict they'll go very, very, very fast.
Screening Info:
Wednesday 3/12
SIFF Cinema Uptown
7:00 PM
**Seating is first come, first served, and is not guaranteed**