If there is one question I've learned so far that absolutely drives bands NUTS, from my very first [and forthcoming on the site SOON] interview with These Arms are Snakes, or during my crash course Bumbershoot weekend talking to handfuls of bands, it's the one in the title. Yes, I've had nearly 10 bands thank me after their interviews for not asking them what harebrained idea resulted in their moniker.
I bring this up because I have yet to mention anything about my Bumbershoot weekend so far on the site. igDana has her hands full with all the interview footage I captured, but I'll give out some previews before they're up.
I interviewed 13 bands, who no matter what your opinion of their music is, are all comprised of really great, hardworking people. I shared a hardy laugh with nearly all of them; although some I was so pressed for time I had to quickly run up, spit out my questions, and then run to the next one. Those included were TIG favorites Viva Voce, Aqueduct, Menomena, Tiny Vipers, Natalie Portman's Shaved Head, and several more.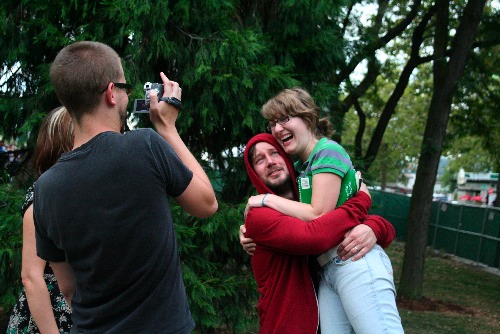 The favorite festival food seemingly shared amongst almost all of the bands? Elephant Ears. Some musicians barely let me finish the question before the answer was out of their mouths! I wonder if they got to indulge themselves? Another common answer was for my "survival tip" question; apparently it's a very good idea to know where the bathrooms are in the Seattle Center. I guess people eat one too many elephant ears…
Besides bands, I also met several very nice publicists, managers, various behind-the-scenes people [including Michelle aka "Mamma Cassrole," the booker of the Comet Tavern and the Mural Ampitheatre stage, among other places], and networked with tons of fellow journalists and photographers over the weekend.
Anyway, hopefully the videos will start cooperating with Dana and we can get them up! I can't wait for you all to see them!
{Viva Voce interview photo by Nilina Mason-Campbell}