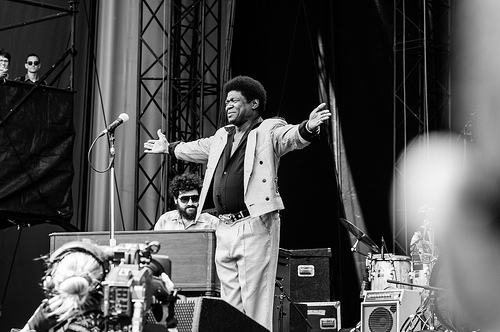 Seattle is divided into two parts: those who know Charles Bradley (and The Menahan Street Band) and those who don't. If you know Charles Bradley + Co., you've already got tickets for their show at Neumos tonight, and you'll probably be there at doors to get a spot up front (after you've tuned in to the KEXP in-studio they're doing at 1pm, of course). You've bought the album and seen the movie.
And you were beside yourself at Bumbershoot and Sasquatch! these past two years at getting a chance to see them live.
And if you don't know Charles Bradley, well — you're in luck. We're here to help you out. Here's his official video for "The World Is Going Up In Flames" off of last year's smash, No Time For Dreaming.
And here's a few clips from the band's 2011 performance at Mellow Johnny's Bike Shop for KEXP during SXSW:
Not convinced? Come on, y'all. The man is a modern-day legend. He's lived everywhere, seen it all, been through actual heartache and pain, and went from the grit of the street to the glow of the spotlight. (If you didn't see Soul of America when it hit theaters, find it. Until then, you can read his compelling full bio on his website here.) Add two parts of the best band he could have ever hoped for to bring the sound out, The Menahan Street Band, and you've got a recipe for one of the best things going in live music these days.
Strangely, tickets are still available for tonight — you'll be able to get them at the door at Neumos, if you're down there early enough. Chances are you'll be out celebrating the passing of Referendum 74 and I-502 tonight anyway, so why not stop by and join the party? And PS, there's a fine-ass pre-funk going on across the street at Havana with Greg Vandy and a handful of other DJs, starting at 7:30 (and it's FREE).
{8p doors / 21+. Photo of Charles Bradley at Sasquatch! by Victoria VanBruinisse.}