We had to have some good tunes to get us through a year of watching a psychopathic plutocrat trying to pitch us back into the black and white world of fifties-era paranoia and imperialism. That victory against vileness confirmed, going back over the songs that made us swoon for the past few months is very pleasurable, as great music can transcend the tough times it was made to get through.
Below are the most repeated recent songs in my playlist, save for the tracks from bands I did publicity for. (I will say that I only do PR for bands I truly love, which is why the Big Freak roster is so small. I'm a picky and fussy little bear. But this is not the place to hype my own wares.) Also, I will note that I will not have a list of albums this year; I think there are still great full-lengths out there, but not enough for me to make a list of. You can blame that on the limited amount of albums I have access to; but I do buy and acquire enough that that's not quite the case.
It could very well be that there's too many great records coming out to keep track of 'em, and to get anything done in terms of keeping up the format of ten or twelve tracks released by one artist or group is increasingly becoming an arbitrary time-lump of expression. Yeah, it's the obvious technological changes (songs trumping long-players, even with the re-rise of vinyl), but also the fact that much more product and much less discriminating gatekeepers are flash-flooding over the trickle of sweet stuff. It's out there, but we're going to need new ways to hook in. This is making places like KEXP or NPR or WFMU, your extinction-threatened informed record store clerk, what you hear at your favorite DJ night, the journalist with an actual story, the in-touch blogger with deep tastes, even labels who don't sign every band (and publicists who don't take on every client, ahem), and of course beloved community-amping affairs like Three Imaginary Girls, that much more necessary.
Believe it or leave it.
Now to the tuneage, in order of honest amounts of plays (assuming my devices aren't fibbing):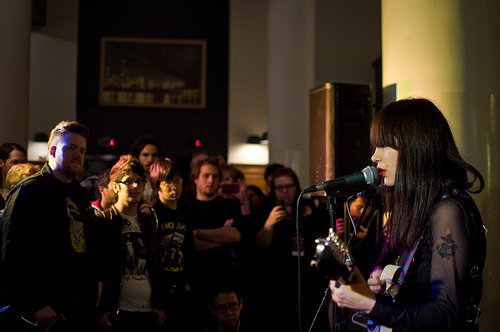 1.) Dum Dum Girls, "Trees And Flowers"
It may be ludicrous to most big boy and bought off rock crits to say, but Dum Dum Girls is arguably the best rock band going today. Tapping into the sixties, seventies and eighties without being a straight hippie-power pop-new wave Freakbeat homage, and crystallizing a powerful dual voice in vibrant vocals and velvety music, they hypnotize as they freeze-dry your tears. Every song on this End of Daze EP is a too-sweet tease for a Dee Dee 2013.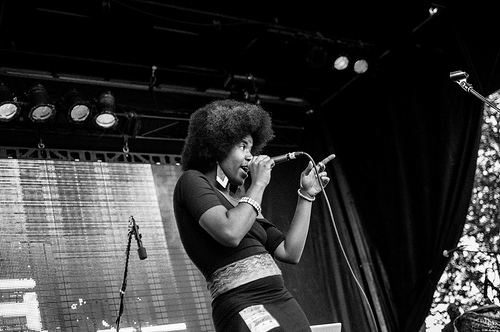 2.) THEE Satisfaction, "Queens"
"Whatever you do, don't funk with my groove." The apex-high point on possibly the best Seattle album of the year, awE NaturalE, it is a perfect song about sleek and confident boundary setting. Catherine Harris-White and Stasia Irons are truly among the best in modern art-soul, following up the heat from their dangerous live shows with a contagious meditation on Being and Blissfulness with a little help from mentor Ish (Shabazz Palaces). There are other great songs on the Sub Pop debut full-length, but this is first pick for my own mix-tape.
3.) Constant Lovers, "Open Toe Heels"
Constant Lovers is a slow drag of a drug-dipped cigarette after feral sex. A stagger home after too many drinks with someone who lights all your fireworks. It's toxic-bad for you, but no mere basement-boy sludge-punk or anything like an AmRep rip off (cough cough). Don't trust the locals who pass on these guys, they're tourists in our town. This is the real Seattle sleaze and squeeze. This pole-dancing clear-heeled 3:31 freak-out is just going to shiv your liver and rot your gut but you won't smell a thing as she plows under. This is a particularly ballsy blast of hot spicy cocktail sauce at the center of their True Romance full-length (get it!!), a hard rock hassle truly good for these times. With Ben Verellen (Helms Alee) now on drums (!!!), maybe the feudal lords with labels will start buying in what's primo and already available in their own hoods and stop exporting cash and stash to GQ-core wanna-bes elsewhere.
4.) Grimes, "Infinite <3 Without Fulfillment"
Well, this is a little embarrassing. Not because of the artist, a wonder-child of post-post-modern pop-art sassiness I certainly can support. The debut album on 4AD it comes from has much longer, more cost-conscious grooves and J/K-Pop meets tinsel-funk gulps. But that this is such a short (less than two minute) collage slice, barely a "real song" at all. But I grew up on punk singles that were just as lean, and got used to playing the hell out of them for their compact charms in a very similar way. Lyrically, she has to dance on her own, but she will either "wait for you" or "whip you … if you want me to." (Okay, maybe I'm projecting a little Depeche Mode D/s into it. Beats me.) A very simple insta-drum machine, clean/crunchy pop confection, all digital-chunk and bass-key burble beneath a rotating vocal melody that draws an intercontinental line between the dimension of spinning bedsit and the Lolly-Goth-dancefloor. It's like Claire Boucher ("G.") turned on a couple of noisemakers and spun around the room, play-singing to a prized pal. The fade out though is a swirling moment straight from another song fade-out, Fiona Apple's "Criminal." Again, I like this opener to Grimes' album a lot because it's fast, anxious, gets to all its hooks in record time, and is punk in that weirdo, Flying Lizards kinda way. As with the best (intelligent) pop music today, the vocals show that even when emotionally pleading human voices can contain mysterious traces of irony without being mean. Yes, I was able to listen to this several times whilst writing this review, as it is that skinny.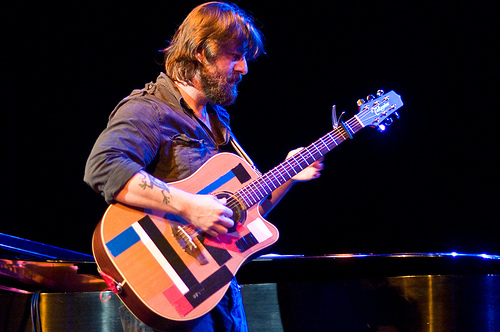 5. & 6.) Sean Rowe, "Downwind" and "Joe's Cult"
The two strongest, most beatnik-swinging tracks on the recent deeply razzling The Salesman And The Shark, Rowe blends a hard-scrabble past and voice to match with succinct stories about trying to stay out of trouble ("I can't go back to the hole again"), and finding yourself in the middle of it (in some other's father's house where you have to dance for your supper without knowing the cause). This is the really good stuff, nuanced and nimble soul-pop with a twangy, back-alley edge and lyrics like grafitti that just had to be writ. Don't miss this second album of Rowe's from Anti-.
7.) Don't Talk To The Cops, "Buy Me Drinks"
Best Pac NW live band. Uber-Grand Royal for the underdog. Show off your dimebag dancing skills and fit-laugh till your entrails pop out of your hernia. Most B-Boy adoration anyplace, and is its own cheerleader and glee club. Should be taking down the nation one drink ticket at a time. High salute to this slamming working class art trash!
8.) Tea Cozies, "Muchos Dracula"
2013 is going to be Seattle's power pop Tea Cozies' biggest year, featuring this tamboline-driven, organ-squealing kicker. The clever and coy harmonies, the Freakbeat menace of a haunted go-go garage, sweetly turning what seems slight into meaty and mighty. They've been working on scores of new tunes, which makes me think this is going to be the four song EP a Spiral Scratch for a new era. Every song I've heard so far is different, dazzling, and slightly disturbing. Beware but be there.
9.) The Coup, "Your Parents' Cocaine"
Picked for the most hilarity on the recently released must own Sorry To Bother You, my album of the year (along with Rowe's, above). Wickedly connected satire and personal outrage chopping up eighties dumb-dust with more'n a pinch of up-to-the-moment mockery that moves you. Also, "Violet" on the same album is the best thing to happen to hip-hop in years texturally. (Feedback strings? Hello, Evolution.)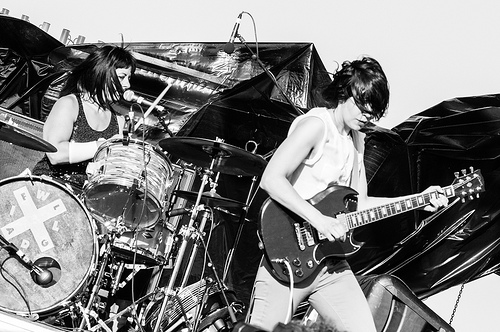 9.5.) Wild Flag, "Romance"
This was released in late 2011, but as it still dominated the first couple of months of my past year's listening, I'm putting this on the list. It's also the opener to the album in question, a self-titled first set, which makes it clear bands should not be afraid to put their most kicking vegan Doc Martin forward. "Romance" features Carrie Brownstein (Sleater-Kinney) and Mary Timony (Helium) doing a gal group-stacked choir of declared desire to make you boom around the room ("shake, shimmy, shake!"). It proved to me that love is not impossible to sing about, and that blood is not a bad thing to share. Intimately appealing and yet sounding like a big old party of good friends, a perfect single.
10.) The Magnetic Fields, "Your Girlfriend's Face"
"So I've taken a contract out on you / I have hired a hitman to do what they do / He will do his best to do his worst / After he's messed up your girlfriend first," is how this song begins, one of the four great ones on the Magnetic Fields' album Love At The Bottom Of The Sea. I'm a sucker for violent one-shots, from "Somebody's Going To Get Their Head Kicked In Tonight" to "Tell That Girl To Shut Up," and whilst this anthem about burying your rival alive on crystal meth doesn't have the staying rock power of those anthems, it makes up for it with synth-pop appeal and uniquely cruel imagery. (The other three from the otherwise disappointing 2012 full-length are "Quick!", "Andrew In Drag," and "I Don't Like Your Tone," which I would also put here if they were nearly as threatening.)
{Photos of Dum Dum Girls at The Ace Hotel (CMJ 2011), THEE Satisfaction (Bumbershoot 2012), Sean Rowe at the Triple Door, and Wild Flag (Sasquatch 2012) by Victoria VanBruinisse.}