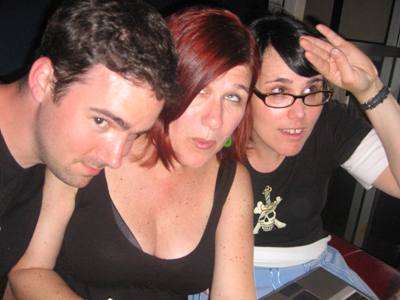 We finally made it into Neumo's — it took us about 20 minutes to figure out how to get in. Fences, fences everywhere!
We're in and we're determined to find a PRIME spot for the Cave Singers and Grand Archives. I've got bottle water and cracker jacks in my bag. That should help us make it through the stiffling heat in here, right? It MFing HOT in here. And I'm the girl who wears two pairs of kneesocks most of the year just to keep warm.
Ok, so in the 10 minutes it's taken me to blog this… the posse (me, Dana, and our web dev Robby) have already broken into the water supply. I don't want to be a pessimest, but I don't think that's a good sign.
Off to the front row of Neumo's. We have to get our Cave Singers on!