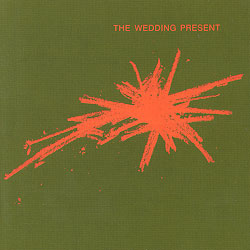 Remember when, a couple years back, we could call the Wedding Present a local band while frontman David Gedge took up a brief residency in Seattle?  Well, let the good Gedge times roll once again as the full band returns to town as part of a small tour across the US to celebrate the 20th Anniversary of the release of their seminal album Bizarro.
On Wednesday, April 21, The Wedding Present will take the Crocodile stage and play the brilliant Bizarro album in it's entirety from "Brassneck" to "Be Honest" and some (fingers crossed) b-sides.
To unleash my WP geekus maximus in the healthiest of ways, I asked some of my favorite fellow Wedding Present fans (i.e. you, me and a Lucksmith) to let us know your Bizarro story. In an unlimited-part series, I'll spread out the joy starting next week as we countdown to the big show.
Of course, if you have a favorite piece of the Bizarro puzzle, feel free to join in the fun and post it below or me at tig @ threeimaginarygirls . com with the subject line of Bizarro.
Reports from folks that have seen some of the east coast stops of this Bizarro Anniversary tour are that David Gedge and co are putting on some of their best shows in years, with the added treat that we get to hear songs unearthed from b-side pergetory/caves that we've never heard (cue dreams being realized).
Want to join me up front at the show? We've got a pair of tickets to giveaway to this very special event. Just send an e-mail to [email protected] before the deadline of Monday April 19 with "TakeMeBizarro" in the subject line.
It *almost* makes up for no George Best stop (they toured to play that, their first album, it it's entirety a couple years back with no Seattle stop). We'll get one of those in 2017, right Wedding Present?