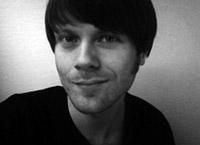 Hold onto your hearts and open your ears, indie-pop fans: your newest crush is Dylan Mondegreen. Or wait — your newest crush is actually Børge Sildne, the one member of the band called Dylan Mondegreen? Erm, I'm not sure which.
The names might confuse a simple American like me, but all I know is that the music attributed to the artist know as Dylan Mondegreen on this MySpace page has been charming me all morning (and the photos on said page don't hurt Dylan/Børge's likeability either).
The sound is equal parts contemporary bed-sit indie-pop (think Math & Physics Club, The Lucksmiths, and Kings of Convenience) and soft rock influences (think Todd Rundgren or Bread — who gets name-checked with the lyric, "The greatest thing since bread came sliced or at least since Bread sang" in the track "Girl in Grass"). MySpace graces us with four whimsical, cheerful, dulcet pop ditties, which are a taster for Dylan Mondegreen's forthcoming record (!!).
Per MySpace…
"Dylan Mondegreen is Børge Sildnes' solo project. An album is finished and ready to be released later this year. The album consists of ten pop songs, recorded in an all analogue studio on the northwest coast of Norway."
So he's a Northwestern too, albeit a different country! No wonder I feel such a kinship.
"Put your favorite t-shirt on, and let summer come along," he lyrically encourages, also on the track "Girl in Grass." I'm totally down. What's the weather like this time of year in Norway?
{A great big huge hat tip to our friend Saundrah for sending this link our way. We all have huge pop crushes on him now too.}