Oh 80s, how I love and hate that I grew up in your giant bang/legwarmer/off-the-shoulder culture. Some things never go out of style (especially according to Urban Outfitters)—even though they probably should—but even though my fashion sense evolved, my taste in music has stayed pretty much the same. Sure, I find bands I like now, but for the most part it's because they all remind me of the bands I loved when I was a teenager.
Lace up your Docs and dive into a pile of nostalgia as I run through three albums that helped get me through the confusion and terror of my high school years, and which I still play on repeat 20-something years later.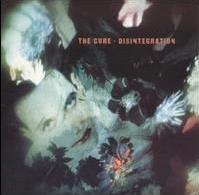 The Cure: Disintegration
Affectionately (?!) titled "the wrist-slitting album" by my group of constantly black-clad Goth-y friends, Disintegration is a depressing tearjerker of an album, meant for playing just after you've been dumped while you write long tomes of terrible poetry, burning that candle you shoved into a cheap Chianti bottle, next to the dead rose you still keep in a vase decorated by torn black lace.
The first strains of the opener, "Plainsong" tinkles in quietly, gradually building to an explosion of gorgeous notes that fall slowly, which make it the perfect sad movie song (major props to Sophia Coppola of sticking it into Marie Antoinette at just the right moment). And then Robert starts in with his mantra of heartbreak, and any hope you have of keeping it together totally crumbles. And that's how the rest of the album goes: 12 songs of beautiful, amazing tunes focusing on love gone wrong, obsession, and pain. Even the strange "Lullaby", about a frightening nightmare, is really about having your hopes dashed and your heart torn asunder. And everyone remembers sobbing through "Pictures of You"—while actually looking at photos of their exes, right? "I've been living so long with my pictures of you, that I almost believe that the pictures are all I can feel…" Oh Robert Smith. You get me. You really, really get me.
Anyway, what started out as an album to listen to while sobbing my 17-year-old heart out is now one of my favorite collections of tunes to listen to, just for the amazingness of it all. I love everything Cure, but Disintegration will always come first on my list of must-listens. I can't even call out any standout tunes from this one, because you NEED to listen to the whole thing for the full effect.
New Order: Technique
It was hard to choose the New Order album that was most important to me in the 80s, but even though I think Power, Corruption & Lies and Brotherhood are better overall, Technique was a tape-deck staple, so I have to talk about it.
When Technique came out, I was a Senior who had recently broken free of a terrible relationship, so what I was craving was freedom and tons of fun—which more often than not meant driving my Mustang from Edmonds to Seattle late at night, all windows down with the tape deck blaring. And my recently-installed Bose speakers (thanks, Dad!) were perfect for handling all the bumping techno beats.
"You're much too young, to be a part of me…" starts out "Fine Time," whose catchy beats are ideal for car seat dance parties and screaming out into the open air. My partner-in-crime at the time and I had the "That's why I love you baby" part timed out in unison, and we played the hell out of our dashboard drums.
The lyrics on every song resonated with me strongly at the time, thick with teenage rebellion and regret ("But I don't give a damn about what those people say, they pick you up and kick you out, they hurt you every day" – "All the Way"), while still somehow imparting hope and happiness.
Like all New Order albums, there's also a healthy dose of longing, but still, every memory associated with this album is a happy one. Speeding through the black night on quiet back roads, one hand on the wheel, the other holding a Djarum clove out the window and smiling from ear-to-ear. And it still makes me incredibly happy! You know, minus both the speeding and smoking cloves part….because I'm old and stuff.
I urge all New Order fans to revisit Technique. Just remember: this is an album that's meant to be played LOUD. Don't mess around with anything under 11 on the dial.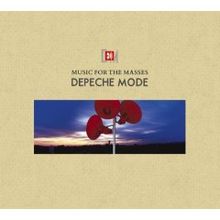 Depeche Mode: Music for the Masses
The first time I saw DM live was during the Music for the Masses tour and OMFG you guys, it was so incredible that I will never, ever forget it. (May 2, 1988, y'all! At the Coliseum, aka: Key Arena, aka: no name now). I still have the ticket stub and program in my hope chest. Ahem
Every song on this album is a masterpiece, and together, they make up what I think is the tightest, most consistently beautiful collection of songs Depeche Mode has ever put out—and that definitely showed during the live show. "Never Let Me Down Again", "Strangelove", and "Behind the Wheel" were all big hits, deservedly so, and great, great songs. And Dave's haunting vocals (especially on "To Have and To Hold") never fail to stir up longing sighs over too much lost time and too many broken relationships. "I heard it from my friends about the things you said…" was able to reduce me to a complete meltdown within seconds.
My friends and I used to put this CD on and have drunken dance parties while screaming out the words "I'm taking a ride with my best friend! I hope he never lets me down again!", which for some reason was really hilarious (probably because we were wasted almost all the time). We also had long discussions over which DM member wore their eyeliner best.
1988 was a really rough year for me, but even though this album is full of sad lyrics and despair (oh hey! Just like EVERY Depeche Mode album!), it still helped me work through being a total mess. So I listen to it fondly now, and try to remember how far I've come from that sad, scared little girl who drowned her sorrows in buckets of Bacardi and stupid displays of bravado the resulted in more than a few dangerous scuffles.
In other words, despite the memories attached to it, Music for the Masses is, was, and always will be, one of my favorites.
So, fellow Imaginaries, which albums from High School do you still spin regularly?