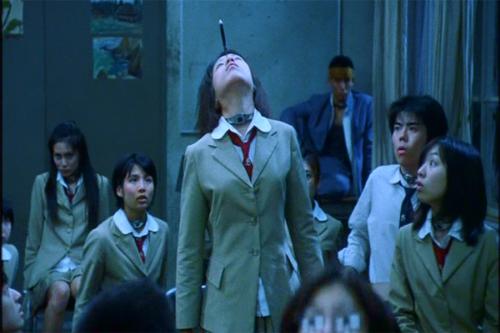 Back from SXSW last week, and I feel I have a lot of movie watching catching up to do. It seems as if Seattle theaters are stuffed with interesting things to checkout. This weekend isn't making things any easier. I've tried to narrow down to three sets of suggestions – but it wasn't easy.
In the "maybe one needs to look deep into their soul to see if something broken beyond repair" option, there's the kids killing kids onscreen category. Or as the Hollywood marketing machine calls it, The Hunger Games. I haven't seen it, but I'm certainly looking forward to it. Especially on the beautiful screen of the Cinerama. Those books were great – I mean common, who wouldn't shed a tear for the relationship problems Katniss has to deal with. Seriously. If you'd like to catch it without the non-drinking crowd then The Big Picture will also be hosting 21-and-over screenings all week. If that's not enough for you in the way of young adult bloodsport, you'll want to make a double feature out of it with Battle Royale, the legendary Japanese film that's similar, yet I'm sure quite different, finally available in the US. You can choose between home video, a Friday 11pm screening at the Northwest Film Forum, or midnight presentations both Friday and Saturday at the Egyptian.
Looking for something that may be equally disturbing, but is in fact true? Then my bet would be on the Grand Illusion where they're screening Fake it So Real, which follows a group of professional, independent wrestlers in North Carolina. I haven't seen it – but I'm definitely gunning for a chance to see it this weekend. If you needed additional incentive, they're running a special where Northwest Film Forum members pay just $5. Which, BTW, is what Grand Illusion members pay all the time – hint, hint…
Finally …. You may have thought that you'd already missed your chance to see the retro 80s Deadly Dance-Dance-Revolution craziness that is The FP. Or maybe just that I'd finally stopped flogging this film. In both cases you'd be wrong. It turns out the picture will screen one more time in Seattle – this Tuesday night at the Uptown theater. Even better, there's a chance to win some prizes and maybe go for free to the film if you stop by The Pink Gorilla in the University District where they'll be a special event from 5-7pm. (4341 University Way NE). If you haven't been to Pink Gorilla Games, this cool retro gaming store alone is worth a trip. Add in a chance to win free tickets to the Tuesday screening, prizes, and free Dance Dance Revolution (a prominent feature of The FP, albeit a more deadly version), and it seems like the perfect way to kick off the weekend.
Oh, and as Imaginary Amie pointed out the other day – next week is your big chance to bowl with the true Dude of The Big Lebowski fame on March 28th. I'm planning on being there – if you are too, be sure to give me a shout on Twitter to say hi.