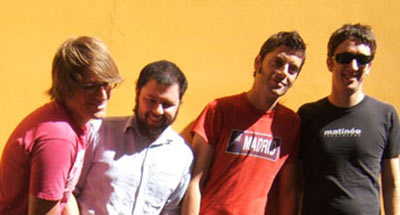 It's a sad sad day for Lucksmiths fans.  My day started with an email from dapper Lucksmiths bassist Mark Monnone titled "Mega sad Lucksmiths group jam" in which he proceeded to break the news that the foursome have decided to call it quits.
They are going to do a handfull of shows around their native Australia in July and August, but then… it's… well… kaput.
It's quite a punch to the stomach to think we'll never again see Tali standing forefront playing drums and singing lead or the brilliant and dizzying bass playing of Mark Monnone. Some of my happiest moments have been spent untangling the whip smart lyrical twists woven by Marty Donald.  I can only hope that they will continue to sneak in some Guild League, Bowl-A-Rama, and Best Friends Group releases.  Who wants to road trip to Australia?
Here's how it all went down:
Dear close friend of the Lucksmiths,

We're really sad to have this news to tell and sad to tell it to you like this, but the Lucksmiths have had a beautiful run, and we're putting them to bed for the last time. It's not you, it's us, so please don't feel too bad.  We're playing some shows in Europe in July which were already booked, and then we're doing a victory lap of Australia in August.

We love you all, and hopefully we'll see you soon.

This is all coming out in a press release in a couple of days, but we thought we'd mention it to you personally… in a group email.

Much love,

Marty, Marky, Tali and Louis