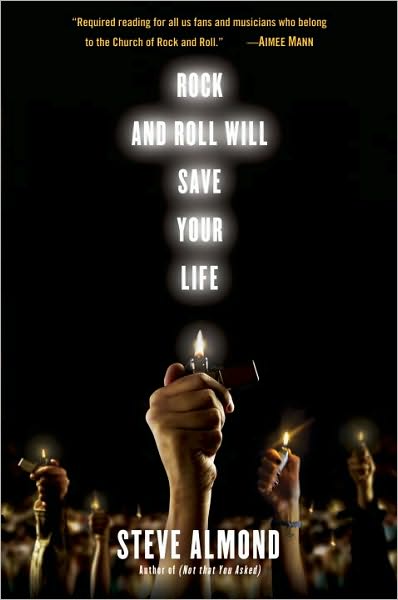 Rock And Roll Will Save Your Life is easily the best humor book on music I've ever read. Author Steve Almond received a lot of accolades for his last non-fiction work, Candyfreak, and he takes his sublime ability to salivate over a subject and viciously poke fun at himself and the world into territory that will be familiar but also probably a little sacred to Three Imaginary Girls readers. This Thursday and Friday, at 7 PM on May 20 and 21, he will be appearing and reading from it at Third Place Books in Lake Forest Park (located at 17171 Bothell Way N.E.) and then at Elliott Bay Bookstore at its new Capitol Hill location at 7pm.
I know the title may seem a little wonky, but this collection of short, crackling essays is as intimately endearing to music addicts as can possibly be. Rarely have the differences between "The Music Douche" (guys who work at used record stores who "invariably abused" him for supporting their places of employment, usually specialists such as "Reggae Douche" and "Metal Douche"), Concert Queens (his haircutter who will endure Pat Benatar three nights in a row for no particular reason other than the bliss of the painful ear buzz when her head hits the pillow later after standing near the big amps), The Collectors ("Do I own too many records?" "Does your friends and family think I own too many records?" and if you answered "no" to the first question and "yes" to the second you have probably read this far into this posting anyways), and other forms of the Drooling Fanatics.
Drunken interviews with songwriters (and the harassment of semi-famous musicians in bathrooms from outside their stall when you just feel the "need to connect," as Almond did with Dan Bern, the roots peformer), "How Not To Woo Your Mancrush," "a reluctant exegesis of the song 'Africa' by Toto" (off topic, Steve, but I just realized last night while playing "The Hula Hula Boys" by Zevon on the awesome The Envoy LP that Jeff Porcaro played all those "Hawaiian instruments" on it — can you imagine? And do you think Stephin Merritt ever played this song as a cover to himself?), a wrist-slashingly self-deprecatingly "career assessment" of Almond's own "attempts at music criticism" (abandon all hope ye who don't think they make a lot of the same mistakes), "Smoking More Pot Than Bob Marley and Possibly The Wailers Before Entering Graceland" where the author wonders about the "No Trespassing" sign and can't understand it due to a Graceland tour pretty much being trespassing (right?), and the Biggest Assholes in Rock. Scott Stapp from Creed is at number ten so you know shit's going to get deep bowel movement funny on the way up the list.
Seriously, religion is one of the most hilarious things ever invented, and it's probably time for real writers who craft stories and creative non-fiction as good as Almond and also happen to be huge slobbering music fanboys to start Rabbi-illuminating and doing a Lenny Bruce on rock's own often-autistic-seeming acolytes. Again, not nearly as mainstream as the title suggests, and only buy if you enjoy having your balls or ovaries at least a wee bit busted.