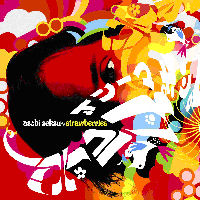 Brooklyn's Asobi Seksu is releasing the song "Strawberries" (from the album Citrus) as a single in the UK on November 12th (on One Little Indian). The 4-song release will also feature coolio remixes of the track by CSS, The Whip and Ulrich Schnauss!
The release comes in three different formats – choose your poison!
1. VINYL (on two limited edition red vinyl 7"s – the first coming in a gatefold sleeve that the second 7" will fit snuggly into)
2. CD
3. MP3 (individual digital files so you can a la carte it)
You can pre-order all the goodies and go get a listen to some of their tracks on their MySpace page right now. Mmm… RED GATEFOLD VINYL. Tasty.
In case you're going over to the UK to buy the release yourself, here's a list of their upcoming European tour dates:
10/22 Paris, France @ La Baron
10/24 London, UK @ Luminaire
10/25 Sheffield, UK @ The Plug (Club NME)
10/26 Brighton, UK @ Barfly
10/27 Southampton, UK @ Unit 22 (Club Night)
10/28 Manchester, UK @ Night and Day
10/30 Glasgow, UK @ King Tuts
10/31 Liverpool, UK @ Korova (Club Evol)
11/01 Nottingham, UK @ The Social (Radar Night)
11/02 Castellion, Spain @ Tanned Tin Festival
11/05 Oxford, UK @ The Academy
11/06 Cardiff, UK @ Barfly
11/07 Leicester, UK @ Firebug
11/09 Bologna, Italy @ Covo
11/10 Florence, Italy @ Flog
11/12 Milan, Italy @ Music Drome
11/12 Zurich, Switzerland @ Rote Fabrik
11/14 Munich, Germany @ Ampere
11/16 Berlin, Germany @ Karrara Klub
11/17 Koln, Germany @ Gebaude 9
11/18 Hamburg, Germany @ Molotow
11/20 Amsterdam, Netherlands @ Paradiso
11/21 Antwerp, Belgium @ Trix
11/22 London, UK @ Sonic Cathedral
11/23 Birmingham, UK @ Barfly
11/25 Dublin, Ireland @ CrawDaddy
11/26 Belfast, Ireland @ The Speakeasy
11/28 Leeds, UK @ The Cockpit
11/29 Cambridge, UK @ Portland Arms
11/30 London, UK @ Koko Club (Club NME)
12/01 Porto, Portugal @ Casa de Musica (Room 2)