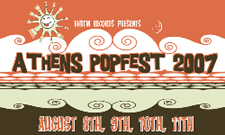 Thanks to Pitchfork for the deets on the Athens Popfest 2007! I can't seem to find a schedule anywhere, but here's the info that's gone public so far:

The Popfest will fill up two Athens venues (40 Watt Club and Little Kings Shuffle Club) from August 8-11, 2007 and will, as always, be brought to us by the fine Happy Happy Birthday to Me folks.

So far, the folks confirmed include:

Ted Leo and his Pharmacists
Daniel Johnston
Circulatory System
American Revolution (featuring Robert Schneider of the Apples in Stereo)
Ideal Free Distribution
Bunnygrunt
Dark Meat
Casper & the Cookies
Poison Control Center
High Water Marks (Apples offshoot band)
Elekibass
Red Pony Clock
Cars Can Be Blue
Baby Calendar
The Smittens
Venice Is Sinking
New Sound of Numbers
Yellow Fever
M Coast
Darren Hanlon
We Versus the Shark
Cinemechanica
How I Became the Bomb
Velcro Stars
Kite Flying Society
Pains of Being Pure at Heart
Fishboy
Ryan Anderson
Birds of Avalon
Violet Vector & the Lovely Lovelies
Titans of Filth
Patience Please
Hat Company
Christopher's Liver
Black Kids
Jerk Alert
The full schedules (yes, there's rumored to be even more people added to the line-up!) will be announced on the fest's website soon!