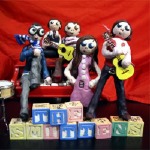 Next Thursday night's line up at the Athen's Popfest is going to cause mass hugging hysteria. Darlings like Ted Leo, Darron Hanlon, Patience Please, and nine other cutable bands will be gracing the PopFest stage over the course of the day and night.
Let's celebrate by singing along with my favorite song by The Smittens (well favorite to date… that could change after I see them at the PopFest): "Good Migrations." The deep male vocals under the sweet coy female vocals are sooo nice. I dare you not to listen at least twice.
The Smittens will be performing early in the evening at the 40 Watt.
Want to join me there? Here's the line-up I'll be seeing that day:
At the Little Kings during the day:
1. Quiet Hooves
2. Oh Sanders
3. Violet Vector & the Lovely Lovelies
4. Darren Hanlon

At the 40 Watt Club at night:
5. Patience Please
6. How I Became the Bomb
7. the Smittens
8. Velcro Stars
9. M Coast
10. We Versus the Shark
11. Birds of Avalon
12. Ted Leo & the Pharmacists