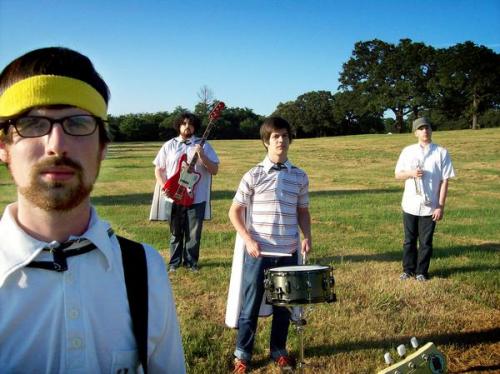 I'm leaving for Athens, GA in less than 48 hours! And here I am at the official end of my countdown series (although I'll still likely be writing about it tomorrow… and if I can find an internet connection, on Thursday morning).
Next Saturday's line-up is HUGE with imaginary favorites The Pains for Being Pure at Heart, Red Pony Clock, Daniel Johnston and CARS CAN BE BLUE!
You'd think I'd take this opportunity to point you to a bunch of Cars Can Be Blue songs, right? Nah, let's talk about Fishboy. They hail from Denton, TX (the new Chapel Hill / Madison / Seattle?) and have a cache of songs that are delectabley rollicking and catchy. Take "Parachute (Using The Ghost Of Buddy Holly As A)" and "Half Time At The Proper Name Spelling Bee."
And they have more songs and videos on the Fishboy website and MySpace that will grab your attention. Once you hear one, you'll be helpless really.
Oh, and because I can't resist… here's some Cars Can Be Blue. Listen to "You're So Cute" – It might make your day.
I'll see you at the Grit? Or at Wuxtry?
And if you're planning ahead, here's the Saturday August 11th's line-up:
At the Little Kings (starts @ 1:30 PM)
1. Black Kids
2. Jerk Alert
3. the Pains of Being Pure at Heart
4. Visitations
At the 40 Watt Club (starts @ 7:30 PM)
5. Red Pony Clock
6. Baby Calendar
7. Fishboy
8. Bunnygrunt
9. Cars Can Be Blue
10. Dark Meat
11. Elekibass
12. Daniel Johnston