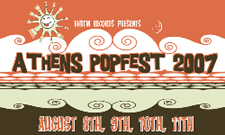 Huzzah! The final wave of bands just added to the Athens PopFest has been announced! In addition to the stellar line up announced a while back (including Ted Leo, Daniel Johnston and, imaginary favorite, Cars Can Be Blue), the PopFest will now feature performances by Tullycraft, The Instruments (Orange Twin superband), and a pre-party on August 7th.
All in all, the four-day festival (August 8th through August 11th) will be packed with indie pop and good times. Who knows, there might be a bbq or badminton tourney. The festival shows will take place at Little Kings and the 40 Watt Club (and possibly continue on to a couple motel rooms afterwards?). Note that the tickets are limited to 150 for a four day pass since only 150 people can go to Little Kings due to the size. Individual passes will be sold for the 9th ,10th, & 11th 40 Watt Shows. This year the tickets will go very fast and will no doubt be sold out quickly so be sure and get your tickets early in advance.
They haven't updated their website yet, but keep it tuned to the PopFest website for complete schedule and band information.
Not only can excellent shows be had, Athens is also home to some amazing veggie and vegan food (ok, I've heard they have succulent pork based bbq too) and everyone there is super mellow and nice. Don't get me started on the thrift stores. Yea, I'm pretty stoked to be heading down there for the fest this year.
Rumor has it that this video was filmed after an Athens PopFest a couple moons ago… it's looks so fun that it rivals the contagiously giddy times promised in a beer or cigarette commercial.