From the office of unsubstantiated imaginary rumors, I just heard news about Bumbershoot that I'm going to share. Because even if it's not true, I'm hoping that publishing it will make it so! Wanna hear it?
Okay, here it is.
Unidentified imaginary sources have informed me that Carly Nicklaus (from the Catch, USE) will be making a cameo appearance during the Aqueduct set…. to cover an R. Kelly song!!! Perhaps we'll be treated to a rendition of "Out of the Closet"?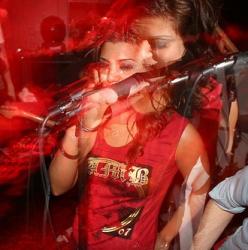 I sure hope so.
Can anyone else help deny/substantiate said rumor?