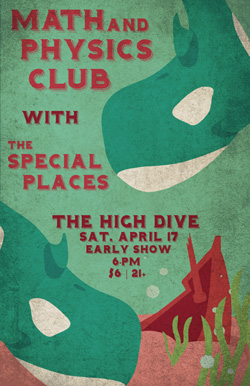 My mind is being blown as I look at my calendar pages for today and tomorrow. On top of the intoxicating sunshine the weather folk have predicted for the weekend, the indie-gods have bestowed a packed schedule of wonderfulness:
APRIL 16-18: EMP Pop Conference
It's going to be full of great sessions around this year's topic of sounds and the machines that make them. This year I'm most excited about hearing Tim Quirk and his look at "The Quiet Revolution: From the Walkman to the iPod, How Portability and Infinite Storage Have Changed the Way We Listen, and What We Listen To" on Friday at 10.45am. Catching Mike McGonigal moderating "Identity Projects" and Michaelangelo Matos on the "Interrogating the Digital" – both on Sunday – will rock 33 1/3 socks off as well.
APRIL 17: Record Store Day
Empty out your canvas bag and your bus pass, it's time to take Seattle record stores by storm on an all day tour picking up a slew of very special limited edition releases to remind us all how important it is to support out local independent record stores.  I am most looking forward to getting to Jigsaw Records in time to pick up each release in their LTD RSD-only series (only 25 will be pressed!) with floppies by Math and Physics Club and BOAT. (full scoop)
APRIL 17: Stranger creator James Sturm and HATE's Peter Bagge at Fantagraphics/Georgetown Records
Fans of Comic Con festivities, Market Day, Other Lives, and HATE at this signing and big party!
APRIL 17: Exene Cervenka's record store tour
Exene, of legendary punk band X, is making a bunch of appearances at Seattle-area record stores: Easy Street Records (Queen Anne) on Friday, April 16 and on Saturday, April 17, the actual Record Store Day, she'll be at Tyrannosaurus Records in Renton and Damaged Goods in Belltown.
APRIL 17: Early Math & Physics Club shows at the High Dive (6p-8p)
Math and Physics Club will play a couple low key shows at the High Dive on Saturday, April 10 and Saturday, April 17 to test drive some new songs for their upcoming trip to the San Francisco Popfest their album release show at the Crocodile on June 12. Both High Dive shows are going to be early (6p-8p) and have the sweetest of openers:Eux Autres (on April 10) and The Special Places (on April 17).
APRIL 17: Mountain Goats movie at Northwest Film Forum
Let's all celebrate the DVD release of Seattle debut of The Mountain Goats: Life of the World to Come, a documentary film about our story's hero, John Darnielle and his band of Mountain Goats. Enough said.
And I'm sure I missed something… what else is going on this weekend? All this fun must be a thank you for getting our taxes done on time, right?