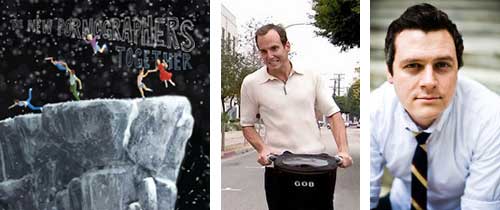 Three Imaginary Girls is excited to present a very special GET TOGETHER to have a sneak listen to the brand new NOT YET RELEASED album from the New Pornographers on Friday, April 23 at Neptune Coffee (at 8415 Greenwood Ave N.) from 6p-7:30p. The evening is free.
Besides getting to hear the newest release (entitled Together) by the critically-acclaimed New Pornographers in its entirety well before the release date (which is May 4 on Matador Records), this happiest of hour event will have 21+ drink specials (thanks PBR!) and a bucket of amazing giveaways such as pair of one-day tickets to Sasquatch for Monday 5/31 (the day the New Pornographers will take the stage) and various New Pornographers objects like posters, pretty pretty vinyl and the like.
To enter to win one of these sweet prizes, you need to RSVP to the event gettogetherseattle@gmail.com and be present to claim your prize. This is very important: If you don't RSVP with your name to the gettogetherseattle@gmail.com email address before the event and you are not present when your name is pulled from the hat, you are not eligible to win.
But, you can be a winner regardless. All you have to do is get to Neptune Coffee early because if you are one of the first 20 people to arrive, you will receive the exclusive and numbered Spring Get Together playlist mixes made by Mr. Carl Newman himself!
The fun does not end there. At 8p, Luke Burbank, host of TBTL (our hero and podcast obsession) will host Arrested Development Trivia at Neptune Coffee. The combination of hearing new New Pornographers (before the rest of the world), the chance of winning fabulous prize, and (perhaps, hopefully) getting the chance to yell out "I DON'T DATE WHORES!" in my best Gob voice in the proximity of Luke Burbank might be too much… but I'm willing to risk it.
Join us for this full night of joyous times at Neptune THIS Friday.
The 6p-7:30p New Pornographers Get Together is FREE and the 8p-10p Arrested Development Trivia portion is a benefit for TBTL with a $5 suggested donation.