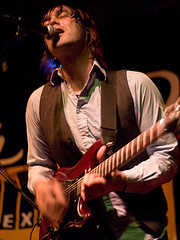 Seattle garage rock hotties The Blakes have just signed to Seattle label Light in the Attic records! I've been wondering who was gonna snatch those fellas up, and I'm thrilled to see they've picked a label close to home. From the press release:
Two hunky, slobby, sexy brothers and a firecracker drummer and rock criticism fan named Bob (who just quit his job at the Old Spaghetti Factory yesterday, THANK GOD) who have been known for thrilling Seattle audiences with their smart but very loud and dirty rock have signed to Light In The Attic Records! News about releases imminently to follow — in the meantime, they will be playing Sasquatch, the Capital Hill Block Party, and Bumbershoot with fellow LITA bands The Black Angels and The Saturday Knights.
Congrats to the band and label alike — we think this is a beautiful match!
Read more about the Blakes on their official TIG band page.