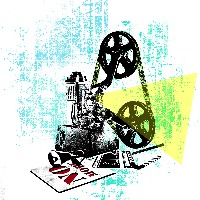 Watch out soundtrack break out artists OMD and the Proclaimers, BOAT is going to be on a big time movie soundtrack!
At last Friday's show I found out the big news and I must say that I am super proud and happy for our BOAT friends.
The movie wont be released until March (or at least that's the current rumor), but it is currently entitled Quebec and stars:
John C. Reilly (the not-Will Ferrell guy in Talladega Nights)
Jenna Fisher (The Office!)
Fred Armison (the hipsters favorite part of SNL)
Seann William Scott (the blonde American Pie dude)
The story goes a little something like this:
Two assistant managers at a grocery chain vie for the top job. The friends, one born in Quebec, are forced to question how far they'll go as they engage in a campaign of one-upmanship to get the coveted post.
Sounds like it could be Clerks meets Zoolander?
The song featured will be "Free the Birds in the Stall" from their last album, Songs You Might Not Like.
Congrats to all!