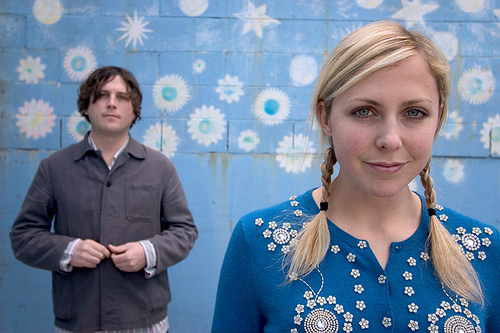 Usually when we say "imaginary" around TIG, we mean stuff that we're super-psyched for! And in this case, it's true –but it's also literal, as I won't be at Bumbershoot this year. So imagine (ha) if you will, that I am going. Here's what you'd see if you followed me around:
ALL THREE DAYS
Flatsock 27 (Festival Grounds)
No matter how many other things I see, I always make it a point to get over to the Flatstock poster show. Amazing artists, cool collector's pieces, and the chance to hang something nice on your wall. Last year I saw these awesome prints by Jeff Kliensmith, and now they're framed in our media room.
Patton Oswalt (Comedy Stage South)
My favorite French mouse, loveable United States of Tara sidekick, Dollhouse guest star, and generally hilarious guy is going be at Bumbershoot ALL weekend. Contrary to most stand-up I see, I always, always, always laugh at Oswalt's riffs, and love that he's a versatile character actor too. Check him out – but get in line EARLY, as he tends to attract huge crowds.
SATURDAY
The Submarines: 12:30pm (Broad Street Stage)
This adorable LA duo has become one of my favorite bands, so I'm crying a little that I can't see them this weekend. Seriously – just take a listen. I'm betting you'll love them too.
Sweet Water: 1:15pm (Center Square Stage)
My early-90s nostalgia-filled heart wants to see these guys SO bad – even if the lineup's not exactly the same. I'm sure they'll rock their rock-n-rolly/grungy/poppy hearts out as hard as they did back when I used to swoon over them and another relatively new band, The Posies.
Joe Mande, Chelsea Peretti, Donald Glover: 3:45pm (Comedy Stage North)
Ok, honestly I'm not familiar with the other two (although I'll give Joe some props for "Look at this Fucking Hipster"), but being a HUGE Community fan, there's no way I'd miss a chance to seed Donald Glover perform live. No. Way.
Best of SIFF 2010 Jury Award Winners: 5:30pm (1 Reel Film Festival @SIFF Cinema)
Y'all know how much I love SIFF. Take an hour to check out their 2010 short Award Winners and find out why. Maybe it'll spur you to buy a full-season pass to SIFF 2011!
Please Take Me Off the Guest List: 7:15pm (Words & Ideas Stage)
Nick Zinner of the Yeah Yeah Yeahs, Zachary Lipez of the Freshkills, and design director Stacy Wakefield team up for photos (taken on tour by Zinner),  words, and music moderated by Makr Baumgarten from City Arts Magazine. Sounds awesome!
Visqueen: 9:45pm (EMP Sky Church)
The loveliest of the lovely, Rachel Flotard's amazing voice and powerful lyrics nearly bring me to tears every damn time, and then the whole band saves the day by rockin' it out so I forget being an emotional wreck and just. start. dancing.
SUNDAY
School of Rock All Stars: 12:30pm (EMP Sky Church)
Seattle-based School of Rock presents rockin' kiddos from age 8-18 shredding, singing, and pounding on stage to classic tunes. Trust me: there is nothing more entertaining and inspiring then seeing these kids play their little hearts out.
Women in Film: 3:30pm (1 Reel Film Festival @SIFF Cinema)
Three short films, three women- that's pretty much all I need to know. Well, that and I trust the 1 Reel peeps not to steer me wrong.
Slender Means: 5pm (EMP Sky Church)
Bouncy pop-infused rock gets me every time, and I know these guys can deliver. They're a whole lot of fun packed onto a stage, and every time I hear a song, I want to sing along- I just don't know the words (yet).
The Jammer: 6:45pm (Theatre Puget Sound Stage)
Seriously. How can I miss something described as "The Hamlet of roller derby plays"?
The Dandy Warhols: 9:15pm (Broad Street Stage)
Here's the thing about The Dandy Warhols, until I saw DIG! I didn't know that much about them, but since then I've realized they turn out catchy pop tunes on a consistent basis, and it's near impossible not to dance to everything they play. Definitely worth a swing-by to get a bouncy-energy-filled-second wind after Bumbershooting all day.
MONDAY
Blood Squad: 4:45pm (Comedy Stage West)
Try as I might, I can't seem to make it to one of Blood Squad's shows – so having them at Bumbershoot would be super convenient (you know, if I was going). Improv + horror films = right up my alley. I just with they threw fake blood on you during the process…

Made in Seattle: 5:30pm (1 Reel Film Festival @SIFF Cinema)
Givin' more of my SIFF love to Seattle filmmakers who weave tales about vampire hunters and guinea pigs? Done and done.
ANVIL: 6:30om (Center Square Stage)
ANVIL! ANVIL! ANVIL! While it's true I'm not a heavy metal fan by any stretch, these guys won my heart completely in the documentary, Anvil! The Story of Anvil, a few years ago at SIFF. I wish them massive success, and would totally risk an instaneous headache the second the guitars start screeching to see them live—just because they're so RAD.
Page & Screen: TV Writers and the Comic Novel: 7:15pm (Words & Ideas Stage)
Now we're talking: writers from Saturday Night Live, The Office, 30 Rock and Arrested Development (as well as their own comedic novels) talk about writing. And stuff. And writing. Moderated by Paul Constant, who's sure to ask all the right questions.
The English Beat: 9:30pm (State Farm Stage)
More nostalgia! The English Beat will forever remind me of Ferris Beuller's Day Off ("March of the Swivel Heads" plays while Ferris tries to beat his 'rents home) – but I also carry around a fondness for "Mirror in the Bathroom" – because there's really not a more perfect song to reenact my sweet 80s dance moves to.