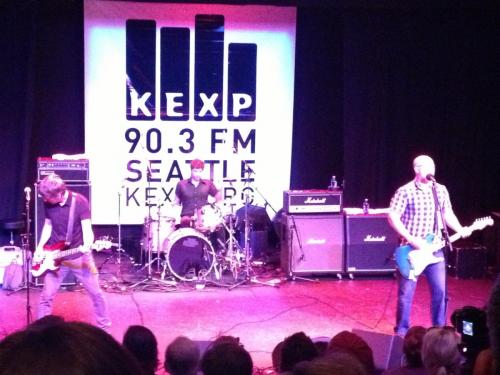 Bob Mould appears to have rocked his own face off in my crappy iPhone photo.
Hi guys. Hi there. Remember how, for the last, like, 5 years, I've been all "OH I AM SO OLD I DON'T KNOW HOW YOU GUYS DO THREE DAYS OF BUMBERSHOOT"? Yes. Well. This year, I convinced myself that I needed to go to the entire weekend, because of the awesome line-up.
ANYWAY. Because of having all the (grumpy) feels about pricing and crowds, I have either skipped going entirely, or limited my exposure to one day during the weekend. But I had so much fun the last two years that I decided to pack up my water bottle and aspirin and give it a go in the name of 90's nostalgia! I live-tweeted the whole weekend, and because I know you want it, I even made a Storify of all the action.
Here's a breakdown of all the awesomeness:
Thao and the Get Down Stay Down
I started my day with Thao and the Get Down Stay Down in the KEXP Music Lounge. Having never been in there before, I didn't know what to expect, but people: I AM A HUGE FAN. Plug me in and turn me on oscillate, because I will definitely make it a point to see every band I love in there every year. Because damnnnnnn. It's good. Comfy seats, amazing sound (bring those earplugs), and a bunch of music fans totally rocking out, live, on the air. SO GOOD.
Thao and her GDSD crew were also SO GOOD. I mean, seriously. So many great vocal highlights and wailing guitars and dancy, rockin' amazingness. That voice! That band! Who knew such a tiny girl could move a whole room like that? I made a vine video for you, but then then my phone eated the audio so you'll just have to use your imagination.
Gary Numan (parts 1 & 2)
Part 1: Numan blew me away in a cloud of Gothy clove-scented smoke, fucking KILLING it on the Music Lounge stage with heavy industrial tunes tinged with synthy pop (including a more rockin' version of his new wave hit "Cars") and my 16-year-old heart died all over the place about 20 times. Fortunately, Jenny George was with me and felt EXACTLY THE SAME WAY. Afterward, he graciously waited to talk to fans and take photos with them, which is how I ended up with a sweaty hug and a photo of us pressed cheek-to-cheek.
BONUS: After I told him much I loved his set, Numan said, "Yeah, that set was kind of subdued. (!!!!) Come see us later. It'll be turned WAY up!"
Part 2: He was right. The second set outdoors at the Tune-In stage was WAY louder and way more energetic. WHAT. My heart melted all over again every time Gary would flutter his arms together in Gothy 80's poses, and I was broken in all the good ways by the time it was over. Oh, and also high. Totally and completely high, because of the dude standing right next to us with his huge blunt.
This was the thing I was most psyched for, so I was totally bummed when we finally got into the Key and all the good seats were taken and they had blocked off access to like, everything. We ended up in the nosebleeds, but I was eventually okay with that since it meant SITTING DOWN.
The Wilson sisters did not disappoint. Ann's voice is still razor sharp, Nancy can still work that guitar like a harpy from hell, and the whole band sounded as tight as I remember them sounding way back in the early 80s. SPEAKING OF THE 80S: Heart, I'm not sure I can forgive you for doing "What About Love", "These Dreams", and "Alone" because they have been stuck in my head all week. Unnnnnngggggh.
For their encore Jason Bonham joined the ladies on stage for some Zep' covers, which was pretty rad. Although I draw the line at "Stairway to Heaven," because, reasons. But! "Misty Mountain Hop," you have my undying love, forever and ever.
Holy shit, Bob Mould. HOLYSHIT. I wasn't really prepared for having my entire face rocked off, especially since it was barely there after catching the last few songs from The Redwood Plan. I've had kind of limited exposure to Mould's solo endeavors, but now that I've seen him live I'm planning to head to Sonic Boom this weekend to BUY EVERY SINGLE RELEASE. [Ed. note: DITTO AMIE.]
Mould and crew brought down the house with every song, power-popping the shit out of the music lounge and making me fall in love with all three band members. Jon Wurster on drums? Amazing. Super smiley. Having SO MUCH fun! Jason Narucy on bass? FORGET ABOUT IT. And Bob on guitar and vocals? WHAT. I CANNOT EVEN HANDLE IT. I could barely stand up after they were done, no joke.
I don't even know who Charli XCX is, and I apologize to her fans, but OMFG. Her cancellation meant I had a chance to see Katie Kate again! I can't even explain to you how amazing she is on stage. She's got this energy that make the ENTIRE crowd move, and her voice. So good. SO SO SO SO GOOD.
Watching Katie Kate perform is like being at the best party ever, you know, where you're crushing so hard on the band that you can't even talk, but that's okay, because you just NEED TO MOVE. You feel happy and sexy and in the groove and you find yourself bouncing and screaming and woo'ing all over the place, and then when it's over, you feel empty and spent, aching for more. NEVER STOP KATIE KATE. NEVER STOP.
The Writing Staff of Parks & Recreation
I like writers. Writers are good. I also like Parks & Rec. Parks & Rec is good. So naturally, this panel was my favorite! Better even than the Battlestar Galactica panel (although that one was pretty boss too).
Megan Amram, Joe Mande, Alan Yang, Aisha Muhrrar, David King, and Matt Murray were HILARIOUS. Like, all the time. Non-stop, just like you'd imagine them being. And Paul Constant was the perfect moderator for them. They had the best answers to spoilers about the upcoming season, and I am going to be jealous FOREVER that they actually ended up at my friend (and former TIG'er) Chris Burlingame's apartment later that night to watch Breaking Bad. WHAT.
Last Splash 20th Anniversary? YES PLEASE. I do have to admit (don't kill me, super-fans), The Breeders could have sounded a little more polished, but I was happy to have a beer with some friends and watch them perform "Cannonball" live. Everyone around me seemed to be really enjoying their set, and I only left early because I hit the wall, and it was brick. And it hurt. And shit, who am I to judge? I paid hard-earned retail dollars to see The Cult like 10x in the 80s and 90s, and Ian was drunk EVERY SINGLE TIME to the point of slurring and forgetting the words to his own songs. But I still loved it. Because. Fun!
Also, I I'm only being a snob about The Breeders performance because everything I saw before them was fucking spot-on amazing, so anything less than perfection wasn't cutting it. I STILL LOVE YOU KIM AND KELLEY DEAL.
Okay, Bellamaine is THE FUCKING CUTEST. Guitars, keyboards, poppy pop pop and darling husband and wife duets? IT'S LIKE THIS BAND WAS MADE FOR ME. I thoroughly enjoyed watching them spread happiness all over the crowd, and my day was completely and totally made when they busted out a cover of Paula Abdul's "Straight Up." Bellamaine, will you be mine? Do you really wanna love me forever? (oh oh oh…)
I didn't think anybody could rock the Music Lounge harder than Bob Mould, but I stand corrected. Superchunk totally brought the house DOWN. Maybe that had something do with the fact that Wurster is also the drummer for Superchunk, and that Jason Narducy stepped in for Laura Balance on bass — but I digress. They had their own thing goin' on (OBVIOUSLY) and THEY SOUNDED FUCKING AMAZING. I just wanted them to keep playing on and on and on and on and on forever and ever.
Other things of note that made my weekend: random Zombie invasions, free Talenti gelato bars, the Skillet counter, Starbucks, ALL of the incredible artists at Flatstock, and the staff of Bumbershoot who, despite some mishaps with line management, kept the center clean and operational for the entire weekend. GOOD JOB, YOU GUISE.
I can't wait to go back next year!